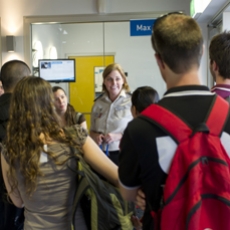 Some of the leading figures from within the charity world will come together at UQ Business School next week in a forum to discuss the sector's future.
Greg Vickery, International Chairman of Red Cross; Dr Stephen Judd, CEO of Hammond Care; David Swain, Director of Churches of Christ Care; and Trevor Carr, the former CEO of Lifeline, will be speaking at the event, 'Not for Profit Sector: Future Directions'.
The forum is part of the school's popular new Masters course, 'Managing small business and social enterprise', which was launched in August in response to the growing interest amongst students in the not-for-profit sector.
Fifty students participated in the course, which is instructed by an interdisciplinary academic team and offers the chance to meet real-life social entrepreneurs at their premises and see their work in action. A recent event featured a tour of the RSPCA headquarters in Brisbane, where its CEO gave a presentation on the business and the issues and challenges it faced as a non-for-profit organisation.
One student, Penny Thi Phuong Dinh, said she had become disillusioned by charities in the past as they were often powerless to bring about change due to their reliance on external funding. However the course had opened her eyes to the potential of social enterprise. 'I have seen how wonderful, talented and fantastic the Australian social entrepreneurs are - and many others throughout the world,' she said.
Professor Ken Wiltshire, who has spearheaded the course and will be facilitator at next week's event, said: "Over a third of our economy is made up of organisations that do not operate on a profit basis. These organisations have different needs in terms of business planning and modelling.
"Here at UQ Business School we have been involved with leading thinking and development of business strategy for such organisations for over 25 years. We are very proud of our history of involvement in the not-for-profit sector and actively encourage our students and staff to give back to the community. We have been very pleased by the interest in our new Masters course for the sector."
The 'Not for Profit Sector: Future Directions' forum will be held on Tuesday, 16 October from 4.00pm - 6.30pm in the Conference Room, Social Sciences & Humanities Library, UQ St Lucia.