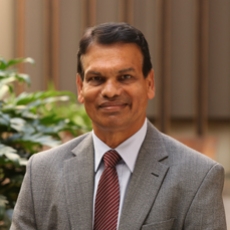 A UQ Business School academic has won the title of 'Reviewer of the Year' for his contribution to the Australasian Marketing Journal.
Associate Professor Jay Weerawardena is a member of the editorial board and a regular reviewer for the journal, which is the official publication of the Australian & New Zealand Marketing Academy (ANZMAC). He was presented with his award at the organisation's annual conference in Adelaide, which was attended by academics from around the world.
The Australasian Marketing Journal, which is ranked as a Tier A publication in the Excellence in Research for Australia (ERA) ranking, publishes studies that contribute to the advancement of the marketing profession. All manuscripts undergo a rigorous peer review process.
Professor Weerawardena specialises in areas including competitive strategy, new service development, social entrepreneurship and high-tech marketing.
Professor Andrew Griffiths, Dean of UQ Business School, said: "The Australasian Marketing Journal is internationally renowned, and Jay's work has directly contributed to helping it maintain standards. The award recognises his input over the years and his expert knowledge of business and marketing."