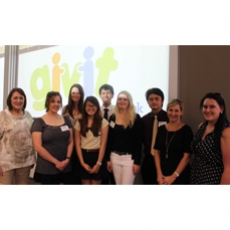 A festive campaign to encourage people to donate goods to charity, ideas to promote gourmet gluten-free foods and a strategy to introduce a new food product into the market were amongst the real-life projects carried out by final year marketing students at UQ Business School.
Students in the course, Marketing Strategy developed the '12 days of giving' campaign on behalf of GIVIT, an online service which matches people who have goods to donate with charities that need them. The campaign in the run-up to Christmas used social media to encourage people to check the requests from charities on GIVIT's website and donate goods.
The campaign resulted in more than 400 donations over the 12 days. The students worked on two projects for the organisation – GIVIT Kids and GIVIT Day, and ideas generated by the students are being implemented by the GIVIT team.
Other groups of students worked with Oz Harvest, which rescues food that would otherwise be thrown away and donates it to charities supporting vulnerable people; Melinda's Gluten Free Goodies, Australia's leading gourmet gluten-free range; Buderim Ginger, the award-winning Sunshine Coast attraction at Yandina on the Sunshine Coast; and Super Retail Commercial (SRC), one of Australia's top ten outdoor and sports retailers.
Juliette Wright, CEO of GIVIT, said: "This was an amazing opportunity for us – I really can't thank them enough." Meanwhile Tammy Raynard, Sales and Marketing Manager of Super Retail Commercial, said: "We were impressed with the amount of research that was conducted and getting a fresh point of view on some of the marketing activities and the Super Retail Commercial website. The projects met our expectations and we walked away with some great ideas."
Dr Nicole Hartley, who runs the marketing strategy course, said: "These projects have given students the opportunity to see some of the real-life marketing issues which organisations face and come up with solutions. The response has been extremely positive. The industry partners found the recommendations to be extremely insightful – and it has been wonderful to see some of them being implemented. It has also been very rewarding for students to see their ideas come to fruition while the practical experience they have gained will be a valuable addition to their CV."