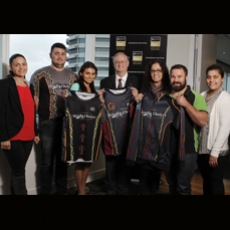 UQ Business School, in collaboration with leaders from prominent Indigenous organisations, recently conducted a course designed to foster the next generation of indigenous leaders.
The week-long Indigenous Future Leaders program, which was part of UQ Business School's Executive Education offering, was attended by fourteen participants with backgrounds ranging from medicine, social work, nursing and professional sport.
The course was delivered by Kenneth Wiltshire, the JD Story Professor of Public Administration at UQ Business School, who explored such themes as leadership styles, the journey from traditional not-for-profit to social enterprise, engagement with media, financial models, and the future challenges facing the Indigenous health sector.
The course also featured a lunchtime 'up close and personal' discussion with celebrated Indigenous-Australian's Professor Marcia Langton, Chair of Australian Indigenous Studies at the University of Melbourne, and Mick Gooda, Queensland's Aboriginal and Torres Strait Islander Commissioner for Social Justice, who recounted their personal experiences on what they have found to be fundamental attributes for Indigenous leaders.
The University of Queensland Vice-Chancellor Mr John Story gave the official opening, and spoke of the importance for leaders to understand their business, communicate effectively, possess integrity, and be passionately committed to the objectives of their organisation.
The Indigenous Leadership course arose after Adrian Carson, CEO of the Institute for Urban Indigenous Health and his colleague Selwyn Button completed the UQ Business School Executive Education course, Leadership for the Not-For-Profit Sector, and identified the value in applying the learnings for emerging leaders in the Indigenous health sector. The course was then developed with the support of Professor Cindy Shannon, Pro-Vice Chancellor of Indigenous Education at The University of Queensland.
Rob Douglas, Director of UQ Business School's Executive Education, said: "The program has been highly successful in equipping the next generation of Indigenous leaders with the knowledge, skills and direction to enact lasting change in their communities, and improve the prospects for the Indigenous health sector across the State."