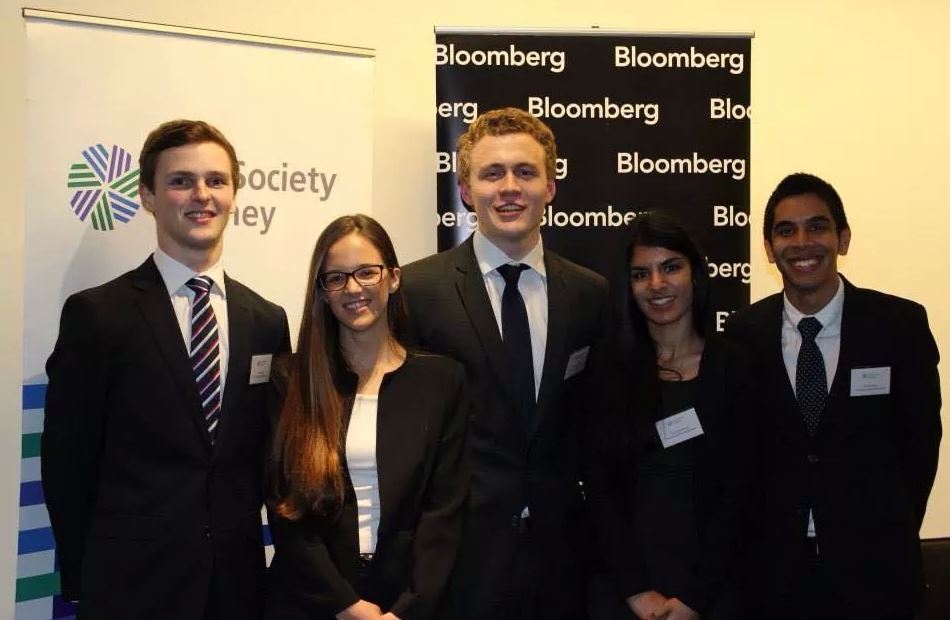 A team of five students from The University of Queensland were recently national finalists in the 2014 CFA Institute Research Challenge hosted by CFA Society Sydney. The team achieved an overall rank of second in the national finals. 
This year's team consisted of Tanushree Venaik, Michaela Lange, Rohit Biswas, Hugo Visscher, and Alistair Roe; bringing together a diverse range of skillsets from Commerce, Economics, Law, Science, and Engineering disciplines.
The CFA Institute Research challenge aims to promote best practice in equity research amongst the next generation of financial analysts.
The global competition tests the analytic, valuation, report writing, and presentation skills of university students whilst they are provided guidance from an academic mentor and an industry mentor.
The students worked together to research and analyse Woolworths Limited, subsequently producing a report with a buy recommendation. The team then flew to Sydney in October to present their findings to industry experts at the Sydney Regional Final.
"The finals were the most exciting aspect of the competition. We had to present and promote our investment thesis against a panel of industry professionals. It was a great opportunity to bring together the knowledge we had learnt through our course work at UQ Business School and apply it in a competitive, real life situation," said Rohit Biswas.
This year's team was mentored by UQ Business School Postdoctoral Research Fellow, Dr Rand Low, and Mark Whitaker from BDO International. 
Dr Rand Low said he is extremely proud that the team was able to make the finals in the challenge, especially as this was the first year he had acted as a mentor.
"The competition enhances the student experience, and shows that the knowledge learnt during their time at university prepares them to succeed in real-life challenges. It also teaches students to think critically and creatively which are valuable skills in the highly competitive field of equities research and investment banking," he said.
Last year over 3,500 students from over 775 universities in 54 countries participated in the CFA Institute Research Challenge, and the competition is currently in its ninth year of existence.