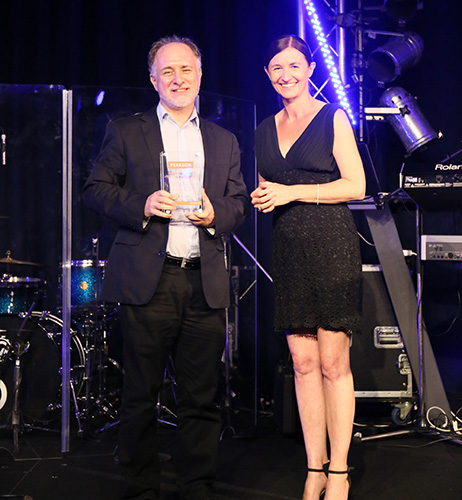 UQ Business School Associate Professor of Marketing Frank Alpert has been awarded the 2014 Pearson Australian and New Zealand Marketing Academy (ANZMAC) Distinguished Educator Award.
The award announcement was made by the President of ANZMAC, Sharyn Rundle-Thiele, at the 2014 ANZMAC annual conference Gala Dinner on 3 December.
This award is the top accolade for teaching in marketing in a higher education institution in Australia and New Zealand.
Professor Alpert is also the first person to have won both the ANZMAC Distinguished Educator Award and the ANZMAC Distinguished Researcher Award, which he received in 1999.
Professor Alpert was thrilled to receive the top award for marketing educators.
"To me it meant external recognition and validation for the all the time I put in to give students the best education possible.
"Also, I felt that this makes an important symbolic statement that academics can be 'balanced academics', seeking excellence in both teaching and research, and not necessarily being specialised more in one or the other," he said.
The judges of the Pearson ANZMAC awards commended Professor Alpert for demonstrating a strong intent to be a transformational teacher, proactively challenging and changing his students' way of thinking.
"His teaching approach is innovative, relevant, scholarly, and learner focused. In particular, he has focused on improving the live-lecture experience through the innovative use of technologies. Frank has published numerous journal and conference papers in the area of learning and teaching. His work has been recognised through several teaching awards, and a UQ Learning Innovation and Teaching Fellowship," they said.
The concept of the award for excellence in teaching was developed in 2002 by Pearson Australia and ANZMAC as a means of recognition and reward for outstanding marketing educators.
Professor Alpert was selected for the prestigious award based of his influential and inspiring approach to learning and teaching, his development of curricula, his approach to assessment, and the support he provides students.