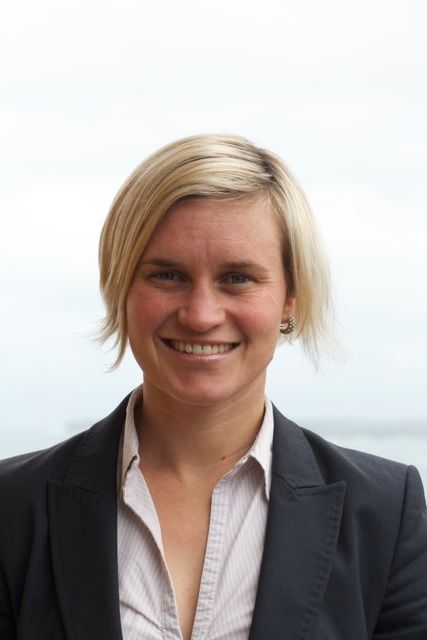 What did you want to be when you were 10 years old? Is the career you're in now something you ever thought you would be doing?
I always thought I would be an entrepreneur - my father had his own business and I looked up to him. I also wanted to go to university and, while I was there, I started a mowing business with my then boyfriend who is now my husband. It was really unsuccessful - we were making way under the minimum wage! Towards the end of my degree, I realised I had no money or experience and ought to get a job. I ended up working for McKinsey.
Could you give us details about your career history? How/where did you start?
After leaving UQ Business School, I started at McKinsey helping large companies in Australia and overseas with strategic and operation projects. I often worked in Malaysia and spent time in Europe.
McKinsey was an incredible experience. I was working very hard but with brilliant people. I learned how to think, how to prioritise and get to the crux of an issue. They have quite small teams and you get a lot of exposure to senior people.
After three years, graduates at McKinsey are offered the chance to take time out. I took them up on it and after a few years, I decided that I didn't want to go back. I wanted to do something entrepreneurial. With my McKinsey background, it was easy to do freelance work as I had a network of ex-McKinsey people within corporates and I could bounce from client to client. Along the way, I worked with Marta Higuera, another ex-McKinsey freelancer. Then in 2012 I contacted Marta, asked her to leave what she was doing and come and join me to start something completely new!
Could you please describe your current position?
Now I am an entrepreneur. OpenAgent.com.au is the "Tripadvisor of real estate agents in Australia". We compare real estate agents based on their sales and customer reviews to help people decide which one to use when selling their property.
I am Co-CEO with Marta and we have a team of about 10 people. Marta and I manage the staff, do all the marketing, decide what features we need to add to the website, deal with HR, operational issues, and anything else that comes up! No two days are the same.
When you are in the start-up world, people are incredibly generous with their time. They will sit down, have a coffee with you and give you advice. The quality of people we have been able to gain access to is unbelievable. That includes presenting to Heads over Heels, a selective network of corporates in Sydney - there are 100 top companies coming to hear about OpenAgent. You're doing that one minute, then the next you are solving an IT problem or on the phone trying to knock $50 off the price of something!
What's the most challenging part of your career?
The hardest part of any job is prioritising. It is easy to think of things that need to be done, the challenge is figuring out what we are not going to do. At OpenAgent we have a huge vision but we are operating with limited resources so deciding on priorities will always be challenging!
What is your proudest career achievement?
OpenAgent has been a string of proud moments – from helping our first client to find a real estate agent and hiring our first employee to raising capital from investors, gaining market traction and winning recognition from the business community. Most recently Marta and I were listed in Australia's top 50 female entrepreneurs under 40.
How does the future look for your role?
Investors say it takes seven years to build a mature technology company, so it is still early days for us, but I imagine it will continue to grow exponentially. In two to four years' time, we will be ten times the size we are now, so we'll have 50 people on the phones instead of five and hopefully somebody else doing payroll and IT support!  Marta and I will still be in charge, but with more people and more organisational structure.
What impact has the Business School had on the way you operate or think about business?
My time at UQ Business School certainly taught me how to think like a business leader. Some of the classes that were less technical also gave you practical skills. There was a class called People Skills about how to relate to people, give feedback and manage people. I still think about it when I have to have a difficult conversation with someone in the workplace. Having been thrust into a world where I am managing employees, investors and stakeholders, I think some of those practical skills were maybe underrated at university by people like me.
What advice would you give to anyone looking to start their own business?
Go and work for a start-up firm - you will be so much further along the curve when you start your own business. Marta had spent time with a start-up in Spain and, thanks to what she learned, we have avoided a lot of mistakes. You can learn so much being by the side of someone who is going through it ahead of you and it's not your money on the line.
You also need the right co-founder. Doing it on your own would be a lonely job – it's much more fun to have someone else to bounce ideas off.
UQ Business School's tagline is "Challenging the Future". What do you foresee as being a challenging business topic in the next ten years?
Technology has only just started disrupting the way things are done. As it makes more information available to people in more ways, it will challenge the status quo in a lot of industries. Even retail, which is such a bricks and mortar thing, is getting marginalised by online and that trend still has a lot further to go.
OpenAgent is bringing transparency to the real estate sector. I can think of ten other industries that could do with more transparency – they will be disrupted and business models will come under pressure. If venture capital takes off in Australia and tech companies can get funded, there will be a lot of slow moving corporates which might struggle.
What's your most positive memory of your time at UQ Business School?
I have so many great memories. I was lucky to have an amazing group of friends. My best memories are getting to know some incredible people and forging lasting friendships, hanging out on campus or taking advantage of university games, college activities, and the local pubs of course!
Want to have the spotlight in the next Alumni e-news? We'd love to hear what you've been up to since graduating from UQ Business School. Share your story with us