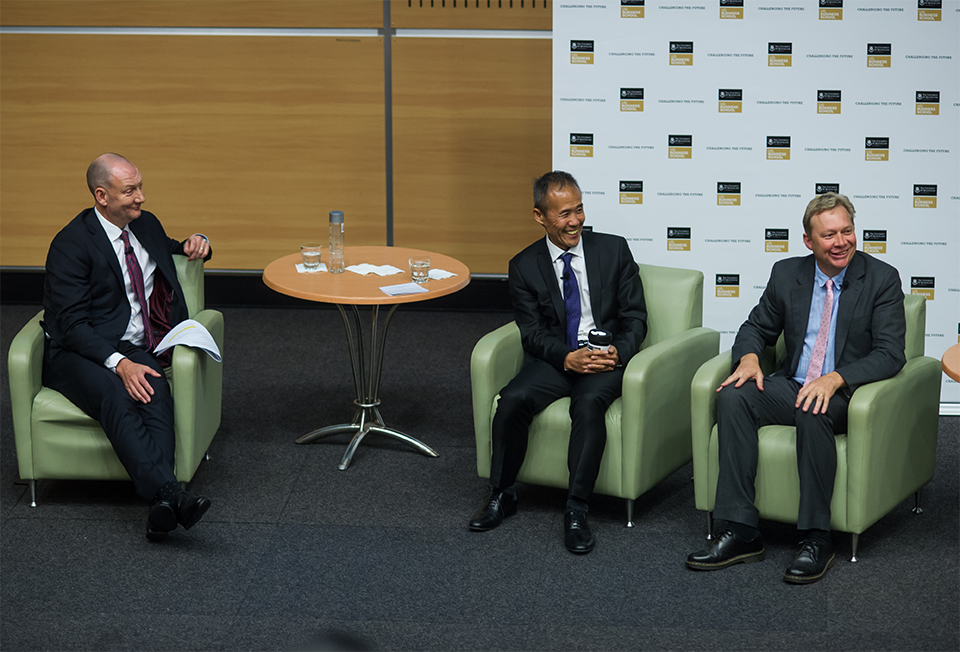 Last week UQ Business School was privileged to host influential businessman and sustainable housing pioneer, Chairman of Vanke and the Shenzhen Foundation for International Exchange and Cooperation (SFIEC) Mr Wang Shi, who inspired a passionate audience with his journey to success.

Chairman Wang Shi from Shenzhen in China is internationally recognised as an advocate for green practices, and sustainable outcomes for environmental protection.

Over 400 students gathered in the UQ Centre to attend the exclusive event where Chairman Wang Shi and UQ Business School Dean Professor Andrew Griffiths, discussed the topics of sustainability, city innovation, and entrepreneurship.
The panel discussion, which was facilitated by the Executive Director of UQ Business School Executive Education Richard Kennerley, captivated the audience which was comprised predominantly of international commerce students and Business School academics.
During the panel discussion, enthusiastic students were given the opportunity to directly ask the Chairman questions, which ranged from building sustainable properties, to his many environmental causes.
Professor Andrew Griffiths said that it was an honour to host Chairman Wang Shi and his delegates for such an inspiring afternoon.
"What an outstanding opportunity it was for our students to hear from one of the most influential business minds, not only in China but globally. We thank Chairman Wang Shi and his delegation for their support of UQ Business School and hope to welcome them back to the University again in the future."
Richard Kennerley added: "International cooperation is becoming increasingly important in business, and with our proximity to Asia, China presents a great opportunity. I am hopeful that this exchange will open the door for more collaboration opportunities between Australia and China, and more specifically between UQ and China in the future."
As an avid sportsman who is one of only eleven people to have completed the global '7+2' challenge,* Chairman Wang Shi was taken on a tour of the UQ St Lucia campus that concluded at the UQ Rowing Club.
Click here to view photos of Chairman Wang Shi rowing alongside the Australian Women's Quad and Men's Lightweight Under 21 members.
Mr Wang Shi, who is the Founder and Chairman of China's largest residential real estate developer, and Chairman of the Shenzhen Foundation for International Exchange and Cooperation (SFIEC), was in Brisbane attending the 2015 Asia Pacific Cities Summit &
Mayors' Forum, which aims to drive economic growth for Brisbane, Australia, and the wider Asia Pacific Regions. UQ Business School Executive Education was a proud sponsor of the APC Summit.
*7 Peaks Alpine Ascent Challenge, plus North and South Pole.

--------------------------------------------

Chinese media coverage of Chairman Wang Shi's visit to the Asia Pacific Cities Summit and UQ Business School, included:
• Chairman Wang shares his environmentally friendly journey at UQ and is interviewed with the Dean of Business School. (Shenzhen Evening News but reposted on one of China's top media outlet Sina News)
http://news.sina.com.cn/o/2015-07-09/063432088503.shtml
• Chairman Wang's guest seminar at UQ Business School on entrepreneurship and sustainability.
http://kanlaizhou.net/a/843773.html
• Shenzhen Evening News had a full-page coverage about the APCS last night. In one of the sections, it mentioned that Chairman Wang participated in a seminar at UQ Business School
http://wb.sznews.com/html/2015-07/07/content_3273398.htm
• Shenzhen Evening News - SZFIEC set up a branch office in Brisbane during their trip and also had a friendly exchange with The University of Queensland
http://wb.sznews.com/html/2015-07/08/content_3274426.htm
• Vanke shares photos of Richard Kennerley receiving gifts from Shenzhen, plus a campus photo at UQ on their weekly
http://chuansong.me/n/1519991
• University of Queensland Business School in cooperation with Chinese enterprises
http://china.caixin.com/2015-07-13/100828429.html