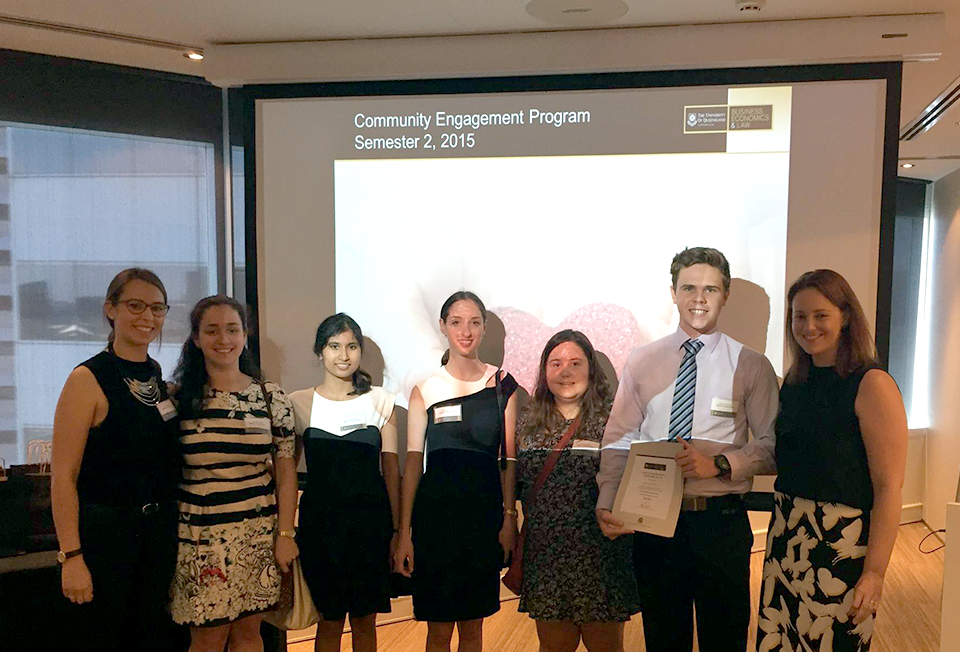 UQ Business, Economics, and Law Faculty's (BEL) Community Engagement Program (CEP) has concluded after another successful semester with a celebration at UQ Business School Executive Venue where the winners of the Community Project Award were announced and community partners thanked for their contributions.
Through the volunteer program, students have the opportunity to partner with not-for-profit organisations and take on the role of a business consultant, responding to a brief outlining an issue, new idea or business improvement initiative.
Over the semester student's work in teams of 4-6, meeting regularly with their client and submitting a scope of work, final report and presentation.
The stand-out team for the semester is awarded individual internships and a video production highlighting their project and learning experiences.
This semester, the eight-team competition was won by students Isabel Heiner, Annabelle Conaghan, Phil Shaw, Luke Deuble, Ricky Thawani and Kegan Nash, who partnered with Community Mates, an organisation that connects charities with volunteers.
Through the project they aimed to establish Community Mates in three Queensland universities. Their strategy will now be executed globally by the organisation, and will be named the International Tertiary Expansion Committee (ITEC), of which the students will continue to be involved in.
The seven other CEP project teams included the QAILS Speak Up Campaign Strategy and Terrace Timor Network Kolega Cards expansion project—both of which were highly commended, the RSPCA Customer Experience project, Suited to Success Event Strategy, Gifts4Good Social Media Strategy, I Can I Will Process Standardisation Plan, and the Youngcare In-kind procurement strategy.
For the first time, each project was mentored by a UQ Business School MBA student or alumnus, who met with and provided guidance to the team throughout the semester.
Program Coordinator Cassandra Vickers said this initiative was highly affective and well received by the students, and will continue as part of the program structure next year.
"Thanks to the feedback and level of insight provided in the program evaluations, we get closer and closer to every organisation implementing all of the recommendations made by the students, which is our ultimate goal," she said.
Cassandra Vickers says that in addition to the students giving back, the most important outcome of the program is the quality of project results for the community partners involved.
CEP is open to students studying postgraduate programs or second year and above undergraduate programs in business, economics and law, and will recommence in Semester 1, 2016.