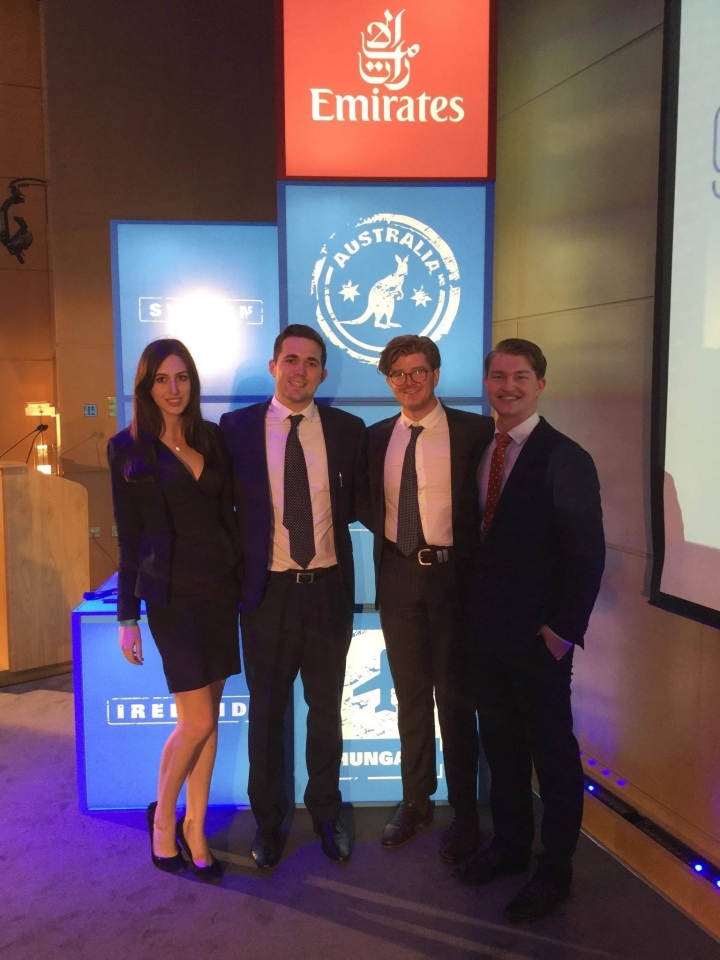 After winning the national round of the KMPG International Case Competition, four UQ Faculty of Business, Economics and Law students have claimed runner-up position for Australia in the world finals of the prestigious competition.
Following a third consecutive Australian title for UQ, the Look At Me Now Dad Consulting team travelled to Dubai to compete against competitors from 23 countries in the three-day event.
The team comprised law and science student Nicole Brazier, commerce students William Randall and Edward O'Brien and commerce/economics student Joshua Roser.
Mr Randall said they were first charged with developing a business strategy for a hotel group in the wake of the digital age and the rise of the mid-consumer.
"During the initial rounds we were locked in a hotel suite for three hours without internet access and required to come up with a 20-minute presentation, followed by 15 minutes of questions and answers," he said.
"It was our ritual that during the initial read of the case, Edward would put on a bath robe and read the case in the bathtub.
"One of the competition conveners came into the room to check on us during day two and was incredibly perplexed by this.
"The convener's apparent shock spread through the judges and contestants quickly."
He said the judges praised the team's unique approach to digital strategy and their extensive knowledge of recent innovations, technology implementation plans and roll-out costs, and of the hotel industry generally.
"The KPMG problem-writer watched our performance on day two and personally informed us that he was 'chuffed' to see a team nail his case and interpret it correctly," he said.
Ms Brazier said the team found they had made the grand finals – along with teams from Canada and Serbia – while travelling in the Arabian Desert.
"We were dancing and riding camels in the desert," she said.
"It was a surreal and moving experience. We felt very patriotic."
For the finals they developed a detailed crisis management plan for a hypothetical scenario involving  a Dubai theme park chain that had received faulty material from its contracted steel supplier, resulting in a media scandal and ride closures.
"The judges informed us that we lost to winners Canada by the narrowest of margins," Mr Randall said.
"More than 22,000 students competed in total, so we were obviously happy with the result."
The competition was sponsored by Emirates and on the final day of the competition the team presented at the Emirates HQ Auditorium in Dubai to an audience of hundreds, including Global Head of KPMG, John Veihmeyer.
The team encouraged other UQ students to apply for entry into the competition next year.