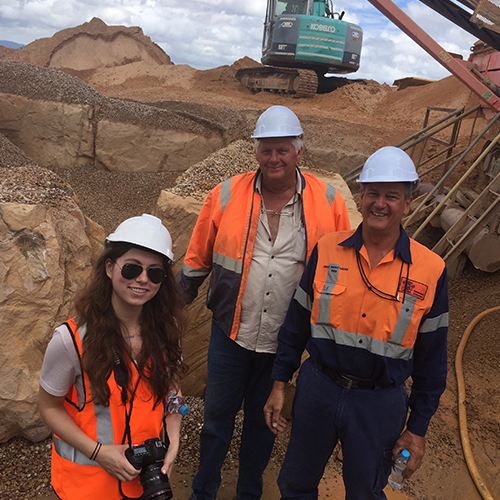 The University of Queensland (UQ) Business School invests in the next generation not only through education, but through teaching students about the importance of sustainable business practices.
UQ Business School lecturer, Dr Belinda Wade, has a wealth of experience in organisational sustainability, particularly in relation to carbon management.
"Sustainability can be applied to many facets of a business, irrespective of the organisation's size, "Dr Wade said.
"It's important for business students to understand how environmental and sustainable business practices can be applied so our future business leaders can find innovative solutions and leave a positive impact on the world."
Belinda lectures in various sustainability courses and coordinates the annual UQ UConn CIBER Sustainable Business Program. The program is a collaboration between UQ Business School and the Center for International Business Education and Research (CIBER) at the University of Connecticut (UConn).
Across two weeks, the immersion program involves four visiting academics from the United States to meet with executives of Australian companies who are leading the way in sustainable business practices while visiting their organisations key sites.
One such company is Rock Trade Industries, who recently won the Environmental and Sustainable Award at the Lockyer Valley Regional Council Business Awards. Rock Trade Industries Sales Manager, Greg Lennox, said without completely embracing sustainability as the platform for business, there would be no future for the company. 
"For Rock Trade Industries to have a sustainable future, offer security for employees, meet supply demands for clients and ensure a sustainable environmental impact – we have optimised sustainable practices and in turn, created a company that is stable, vibrant and resilient," Greg said.
"Embracing a policy of sustainability has by no means been an easy road to follow. There is no manual or set procedure for a sandstone quarry to implement sustainable practices.
"The decision has had substantial financial implications. Without our full commitment to the original vision, we would have, like many sandstone quarries in the region, have made a quick dollar and left.
"The introduction of a sustainable platform is a journey. Over the last four years we have invested in excess of $4 million in new product research and development. We are now at the stage of achieving 95 per cent utilisation, as opposed to the region standard of 25 per cent.
"We are very proud of our successes and cannot thank UQ enough for sharing in the initial vision and for their consistent support ever since."
The impressive initiatives Rock Trade Industries have put in place have also inspired academics from UQ and UConn to co-author a case study to continue to share their story with the wider cohort of business students.