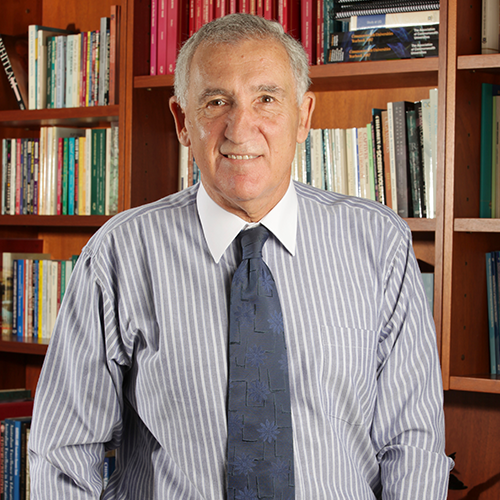 This article was originally published by UQ News on 8th November 2017
---
Emeritus Professor Ian Zimmer was a key leader at The University of Queensland in the years leading up to his retirement in 2013.
He was Executive Dean of the Faculty of Business, Economics and Law (BEL) for a decade before holding the post of Deputy Vice-Chancellor (External Relations) for five years until 2013.
Deputy Vice-Chancellor External Engagement Professor Iain Watson said Emeritus Professor Zimmer's legacy would live on at UQ.
"I understand Emeritus Professor Zimmer led UQ's efforts in the 1980s to better capitalise on the enormous potential of the international student market," Professor Watson said.
"In BEL, he spearheaded the recruitment of overseas students before that became a University-wide initiative."
"He also played a key role in the establishment of UQ's Global Change Institute (GCI) building.
"Emeritus Professor Zimmer's relationship with businessman and philanthropist Graeme Wood helped Mr Wood realise his vision of funding the construction of the GCI building through a gift of $15 million in 2010.
"Emeritus Professor Zimmer also worked with philanthropists Andrew and Jennifer Brice on their generous donations to UQ, notably through their ongoing funding of the UQ Young Achiever Scholarship program."
The relationship between Emeritus Professor Zimmer, Mr Wood and the Brices was forged when Emeritus Professor Zimmer helped the two men get start-up funding to establish the Wotif.com online travel agency.
Emeritus Professor Zimmer came to UQ from the University of New South Wales in 1985 as Reader in Financial Accounting.
In 1986 he was appointed Chair in Accounting, and two years later he became UQ Department of Commerce head. Later he was appointed head of the TC Beirne School of Law.
He retains the distinction of being the only non-lawyer to lead the UQ law school.
In 2006, he became chair of the Mater Medical Research Institute in addition to his UQ work.
He served as a member of the Australian Defence College Advisory Board in Canberra, overseeing defence force policy on undergraduate and postgraduate education.
During his time at UQ, Emeritus Professor Zimmer held visiting academic appointments at business schools including INSEAD at Fontainebleau in France and at the University of Michigan and the University of Washington.
He was a Fellow of the Australian Society of Practicing Accountants, the Institute of Chartered Accountants and the Leaders of Social Sciences, and a member of the American Accounting Association and the Accounting and Finance Association of Australia and New Zealand.
Emeritus Professor Zimmer held degrees from Monash University, Swinburne University, the University of Liverpool and the University of New South Wales.
He was awarded a PhD by UNSW in 1983, for his thesis on The Use of Accounting Information in Corporate Lending. In 1997 UNSW awarded him a Doctor of Science on the basis of published work that made a distinguished contribution to international research literature in financial accounting.
In 2002 Emeritus Professor Zimmer received the AAANZ outstanding contribution to accounting literature award and in 2004 he was elected as a Fellow of the Australian Academy of Social Sciences.
Media: UQ Communications, communications@uq.edu.au, 07 3345 1120.