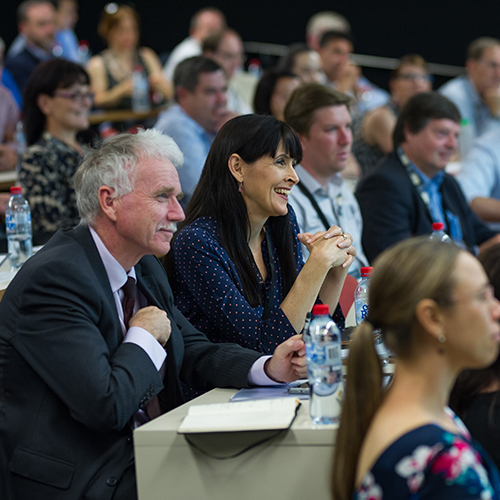 In 2017, service industries account for more than 60% of all annual investment, GDP and jobs (IBISWorld, 2017). With new technology, robotics and the ever-changing consumer wants and needs of consumers, what will this industry look like in 33 years?

This is just one of the questions discussed at a Thought Leaders Conference at The University of Queensland (UQ) chaired by Professor Janet McColl-Kennedy and Associate Professor David Solnet from UQ Business School, earlier this month, focusing on where the service industry will be in 2050. 

Co-hosted by UQ Business School and Australian National University, Theorising beyond the horizon: Service research in 2050 brought together some of the world's most prestigious service scholars and thought leaders to explore and debate 'where to from here?' in a three day conference at the UQ campus and The Hilton, Brisbane. 

Six key takeaways from the conference, included:
A need to integrate the physical, digital and social realms of the customer experience.
While robots and automation are already playing an increasing role in the customer experience, not everything will be (or should be) carried out my robots – the human touch will still be paramount for many industries.
Big data will be all around us, but we will need better insights into what the data is telling us about customers and the customer experience.
Platforms will change how service is delivered, with significant growth of platform-based business models anticipated.
We will see a growth in peer-to-peer interactions and collaborations, rather than businesses and practitioners operating independently.
Workers will be more agile and flexible and there will be more preamble boundaries between work and leisure.
These findings will be published in a Special Issue of the Journal of Service Management in late 2018; aiming to set service research priorities and shape future research, which will have implications for the industry as a whole – businesses and consumers alike.

The round table discussions were led by the following internationally acclaimed professors.

Track 1: Customer Experience Challenges: Bringing Together Digital, Physical and Social Realms
Professor Ruth Bolton, Arizona State University, USA
Professor Janet McColl-Kennedy, The University of Queensland
Track 2: Imagining the Future of Service Operations
Professor Paul Maglio, University of California, USA
Professor Byron Keating, Australian National University
Track 3: A Transformative Service Approach to Empowering a Worldwide Just Service Economy by 2050
Professor Raymond Fisk, Texas State University, USA
Professor Alison Dean, The University of Newcastle
Track 4: Midrange Theory and Service Engagement: A Key Component in Developing a General Theory of the Market
Professor Roderick Brodie, University of Auckland
Professor Simon Bell, The University of Melbourne
Track 5: Service Innovation: Lower transaction costs or valuable service concepts?
Professor Tor Andreassen, Norwegian School of Economics, Norway
Professor Line Lervik-Olsen, BI - Norwegian School of Business, Norway
Track 6: Robotics and Front Line Service
Professor Jochen Wirtz, National University of Singapore
Professor Paul Patterson, The University of New South Wales
Track 7: How Can Context Re-design Foster Innovation? Extending the Service Ecosystem View
Professor Bo Edvardsson, Karlstad University, Sweden
Professor Pennie Frow, The University of Sydney
Track 8: Predictions and prospects for service workers in 2050:  A Leadership perspective
Professor Mahesh Subramony, Northern Illinois University, USA
Associate Professor David Solnet, The University of Queensland     
"Theorizing beyond the horizon: Service research in 2050" was held from 2 – 5 November at the University of Queensland's St Lucia Campus and the Hilton Hotel, Brisbane.