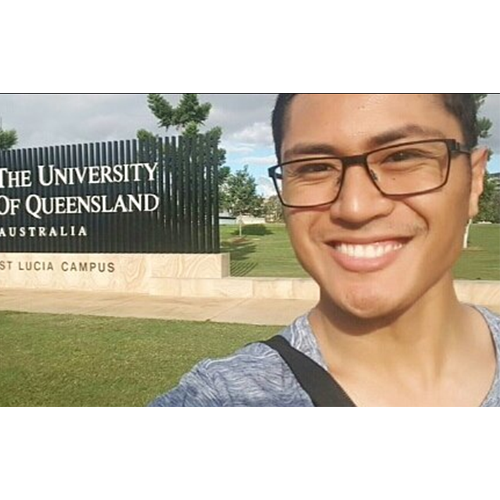 Graduating student Ma'aola Saminatoto Milovale loane is set on a new mission – to expand opportunities for students in his homeland of Samoa.
After graduating with a Master of Business from The University of Queensland on Wednesday, 13 December, the 22-year-old plans to launch the first work-experience program of its kind in Samoa to provide students with operations and management experience in local businesses.
Ma'aola said the work-experience program will link local schools and businesses across different villages to support students to gain vital experience in the workforce and acquire transferable knowledge and skills for national and international opportunities.
"My biggest fear was being 'just another graduate'," Ma'aola said.
"The world is becoming a cookie-cutter factory that manufactures graduates who are super educated but super identical too. UQ taught me that I don't have to do things like everyone else.
"We can help our clients and ourselves to grow by simply embracing our own creativity and identity."
He hopes the program will spread awareness about the value of education.
"Education opens our eyes to what is wrong in the world and gives us the knowledge and ability to change it," Ma'aola said.
"Education is important and emphasising this is crucial in securing a more productive future for everyone."
Ma'aola's convictions are based on experience and his quest for knowledge has taken him on a remarkable five-year journey. He has moved from Auckland to Brisbane, designed an award-winning stress relief toy, taken his first steps as a songwriter and held down a job, all while completing his bachelor and master's degrees.
Ma'aola's family migrated from Samoa to New Zealand to seek greater opportunities in education. Ma'aola completed a Bachelor of Commerce at the University of Auckland where his team won a prestigious business competition using their design for a stress relief toy, inspired by their experience as volunteers in community rest homes.
After completing his bachelor's degree, he yearned for further study.
"I loved my job and felt like I could really grow at work, but I still felt like my mind required nurturing. I was hungry for knowledge," Ma'aola said.. 
"So I did what most millennials do, I Googled my next step. I searched 'best business schools in the world' and UQ came up high in every list."
Further research confirmed his initial impression and he opted for the Master of Business because of its relevance to the workplace. Within a month, he was in Brisbane, albeit without any guarantee of employment or even a position on the course. Fortunately, his application was accepted.
Highlights of the program have included working with a "young, fun" hospitality brand where he replaced part of their corporate presentation with a live song which he performed himself; and an "eye-opening" entrepreneurship course for which he acted as course facilitator, assessing and advising other students and providing feedback to the UQ Business School.
One of his most memorable moments was going for a night out at a Chinese karaoke bar with a group of Chinese students he had only just met. He has been delighted to find that UQ fosters an environment where diversity is valued, interaction with people from different backgrounds is seen as core to personal growth and individuality as a tool for success.
His advice to aspiring students?
"Know that you are different, value that and use it as your tool for success. Be the best and most authentic 'me' you can be. This is more than enough to achieve the standard and even set new standards," Ma'aola said.
After more than a century of graduations, UQ is celebrating a major milestone this December: 250,000 graduates. You can read more about the achievement here.
---
Originally published by UQ News, view the original article here.