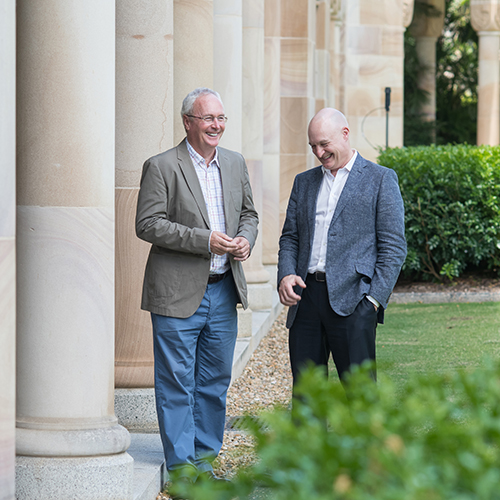 When Mark Dodgson met David Gann at Sussex University in the mid-1980s they discovered they had a lot in common – the same sense of humour, a love of pubs and a keen interest in the rise of new technology.
The Walkman and Nintendo had just been launched and IBM had recently introduced the 'personal computer'. Both researchers were investigating the impact of technology on skills and society and soon they were working together.
Little did they know that it would be the start of a research collaboration that would last three decades – which is very unusual in academia - and one that would bring them worldwide recognition as thought leaders in innovation.
Mark is now Professor of Innovation Studies at UQ Business School while David is Vice-President (Innovation) at Imperial College London, and they have links at each other's universities – with Mark a visiting professor at Imperial College and David an honorary professor at UQ.
During the three decades they have co-authored six books and numerous journal articles and reports; travelled the world together to study companies in locations from Australia, Hong Kong and Dubai to Switzerland and Silicon Valley; and helped to shape current thinking on innovation.
"When we started, no-one really knew what innovation was," says Mark. "It's now a core subject for business schools, and a key concern for companies and governments alike.
"In those days, people assumed that the more you invested in research and development, the more innovation you would get. However, we now know it is much more complex and companies can face all sorts of organisational and market challenges."
Over the years, they have seen how technology itself has changed the process by making it easier for companies to connect. Big firms no longer rely exclusively on their own R&D, but draw on innovations from smaller partners and universities. They have analysed how digital technologies are changing the ways firms innovate, describing a new category they call 'innovation technology'.
Meanwhile as more people have moved to urban areas, cities have become a focus for innovation, but infrastructure has struggled to keep up with demand. Their work has explored innovation in cities and in large infrastructure projects, such as new airport terminals and railways. David was until recently Chair of the Smart London Board, using all this accumulated research to advise Mayor Sadiq Khan and his predecessor Boris Johnson.
As well as their interest in emerging tech giants such as Google and Facebook, the two men have explored how established firms, such as P&G and IBM, manage to evolve over time. They observed the way these companies use play to generate new ideas. They developed the idea of the 'think, play, do' innovation process and created a spin-off consultancy company to show other firms how to put it into practice.
Over the years they have advised some of the world's biggest companies, mentored start-ups and entrepreneurs, developed international executive programs and created a large collection of innovation management course material, including a leading textbook. They also edited the 'bible' in the field, the Oxford Handbook of Innovation Management. Their books have been translated into seven languages.
They continue to work together, write a joint blog for the World Economic Forum and this year will publish two more books – The Playful Entrepreneur, with Yale University Press and a second edition of their popular Innovation: A Very Short Introduction, published by Oxford University Press.
Mark acknowledges that their collaboration has lasted longer than many marriages.
"Successful collaborations depend on how well you leverage each other's different skillsets. David and I bring different skills to the table. After 30 years, we know how each other thinks and we speak our own language.
"What has driven us is the overarching desire to understand the nature and impact of innovation. Our secret sauce has been a shared intellectual curiosity, friendship, tolerance, and above all, laughter."