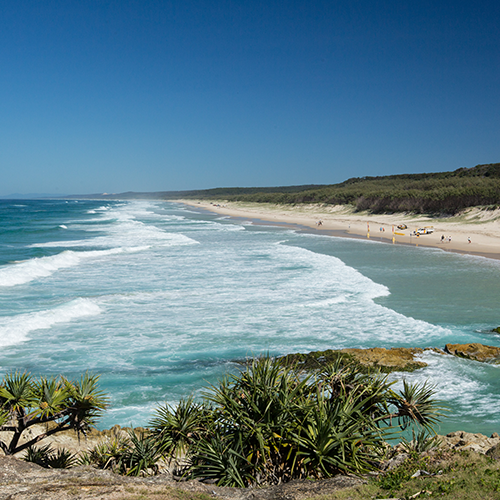 Tourism is a crucial economic activity for the future growth and sustainability of North Stradbroke Island (NSI).
Researchers from The University of Queensland Business School have commenced a research program to help the Queensland Government and the island community to plan and promote tourism and events on the island.
Five UQ Business School tourism academics have received funding from the Queensland Government to collect data as part of the North Stradbroke Island (Minjerribah) Visitor Research Program.
The program is part of the Queensland Government's North Stradbroke Island Economic Transition Strategy (NSI ETS) aimed to diversify the island's economy by expanding tourism, education and business opportunities.
Associate Professor Pierre Benckendorff, who is coordinating the project in partnership with the Department of Innovation, Tourism Industry Development and the Commonwealth Games (DITID), explained that the research team's significant connection to the island drew them to the project.
"Several of our team have a personal connection to NSI and would like to see the island—which we believe is one of Australia's best kept secrets—reach its potential as a sustainable tourism destination."
"The island is part of the first successful native title claim in South East Queensland and there are many opportunities for the local Quandamooka people to share their cultural values and country with visitors.
"This project is an opportunity for us to make an impact locally by working with the Queensland Government to help inform policy and planning for tourism on the island," he said.
Tourism Industry Development Minister Kate Jones said tourism was vital to North Stradbroke Island's future as it transitions from a history of sand mining.
"By working with experts at the UQ Business School we will get the data needed to build the North Stradbroke Island tourism industry," Minister Jones said.
"To drive tourism growth and job creation on this beautiful island we need to deliver exceptional visitor experiences and that means we need to connect with visitors and hear what they're saying.
"Information gathering plays a crucial role in understanding a visitor's intention to travel, where and when they prefer to stay, play, eat and spend while on the island."
UQ Business School's Tourism Discipline is a world leader in tourism research, with more than 25 years of experience in tourism education and research, and the only United Nations World Tourism Organisation (UNWTO) accredited degree in Australia.
The University of Queensland already has a strong presence on the island with the Moreton Bay Research Station.
Local residents have been employed to assist with the project, which includes collecting data from a variety of sources based around topics including market awareness, travel intentions, and transport and activity preferences.
"This will help us develop a better understanding of the local tourism industry while the important findings it presents, such as longitudinal data, are expected to inform future policy and planning that will help inform the future direction of tourism on the island.
"The data will also support the local tourism industry and Traditional Owner's long-term planning and marketing efforts," says Associate Professor Benckendorff.
The tourism research project began in 2017 and will continue to 2021.
 "The project provides a fantastic partnership with DITID and is just the latest in a number of projects delivered by researchers at UQ's Business School," said Professor Benckendorff.

Tourists enjoying the sunset at Amity Point, North Stradbroke Island. (Credit: Redland City Council)