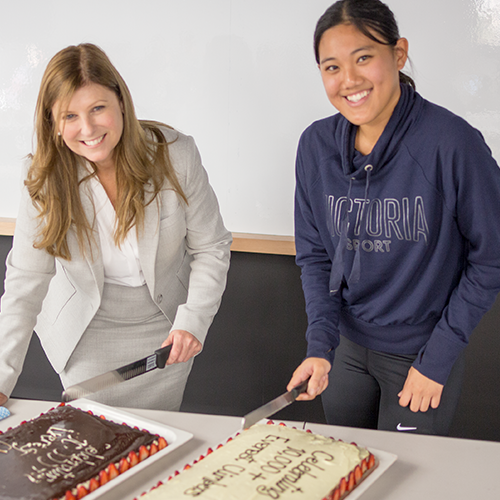 It is more than 9,350 km from The University of Queensland St Lucia campus to Mount Everest, and this week UQ Business School celebrated a peak milestone with the 10,000th student to attempt the climb. Virtually, at least.
The Harvard Everest Simulation is offered to first year undergraduate students in UQ Business School's undergraduate programs. Working in teams of five, students are assigned a specific role and must work together as a team to simulate the treacherous climb to the summit.
Course Coordinator Dr Gemma Irving said this milestone recognises the sustained excellence and innovation in UQ Business School's undergraduate teaching.
"The Everest Simulation doesn't require advanced knowledge of business. It allows our first-year undergraduate students to gain first-hand experience of management issues like leadership, goal-setting and ethical-decision-making, in a fun environment," said Dr Irving.
"After completing the simulation, students have a personal and shared experience to help them make sense of the management topics we discuss in future lectures. The exciting experience and bonding over the long journey usually results in some new friendships too."
The simulation was first introduced to the Introduction to Management course in 2013 by Associate Professor April Wright and Elizabeth Nichols after successfully being used in the MBA program. Since its introduction, UQ has been ranked in Harvard's Global Top 3 users, with approximately 1400 students undertaking the simulation each semester.
"The simulation has been sustained across 10 semesters, 5 course coordinators, 4 associate lecturers and 34 casual tutoring staff," said course lecturer Dr Geoff Greenfield.
The momentous celebration was attended by Dean and Head of School Professor Julie Cogin, Associate Dean (Academic) Professor Polly Parker, Director of Education Associate Professor Lisa Ruhanen, Bachelor of Business Management Program Leader Dr Sarel Gronum and the Introduction to Management teaching team.