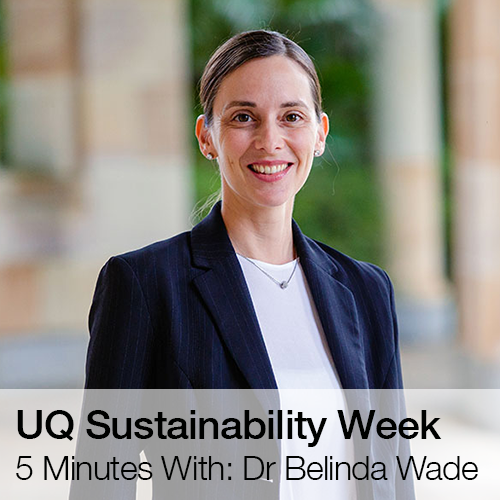 Dr Belinda Wade is a lecturer in strategy with a research focus that examines organisational adaption to sustainability issues.We spent five minutes with Belinda to find out about her current research and to see what a sustainable future looks like:
1. Can you briefly tell us about your research in sustainability?
I find the challenge of promoting organisational sustainability for a climate changed future very interesting.  Given my background in the traded electricity market my research examines the current approaches to decarbonisation and climate adaptation within the electricity and other critical utility sectors including capabilities for accelerating change towards a lower carbon economy.
2. What impact has your research had on sustainability in industry and the community?
Feed back from contacts in industry has identified the value they receive from simply sharing experience and providing feedback on their approaches as they strive to become more sustainable.  It is hugely rewarding to hear that you have in some small way assisted organisations to focus on their sustainability and there have subsequently been positive benefits for their ongoing corporate success.
3. What's been one of the greatest innovations you've recently seen in sustainability?
If we are thinking about technology with the potential to transform industries it has to be battery storage.  Battery storage of electricity has the potential to transform the electricity market in terms of the integration of renewable energy.  It can change the way we define and design our homes particularly when we consider the integration of emerging solar technologies such as solar windows and paint in addition to standard solar PVs.  With the use of batteries our home of the future could not only meet its own 24hour energy needs but also charge electric vehicles and export to the grid if connected to the network.
4. Is there an organisation or industry you think is leading the way in sustainability?
Fortunately in Australia we have a lot of examples of organisations leading the way in sustainability.  Local examples of companies we are lucky to include in our annual Sustainable Business Program include Perfect Potion, Scotbar Quarry and Rockcote - all interesting examples of sustainability in their own right. 
5. As an expert in the field of sustainability, what are you most passionate about seeing changed to make a more sustainable future?
I would have to say I have two passions for change towards a more sustainable future.  One is the decarbonisation of our economy and the second has to be our reliance on plastic - it is so integrated in our lives and yet it has such terrible consequences for the natural environment.