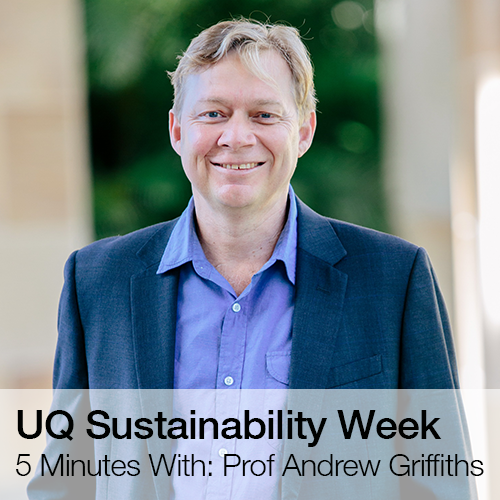 Professor Andrew Griffiths is the Executive Dean of the Business, Economics and Law Faculty. He is an internationally-recognised leader and pioneering scholar in organisations, business strategy and climate change and has managed strategic change, innovation and corporate sustainability for leading national and international organisations in the profit and not-for-profit sectors. We spent five minutes with Andrew to find out about his research and to see what he envisions for a sustainable future:
1. Can you briefly tell us about your research in sustainability?
My area of research looks at how organisations interact with the natural environment. In particular, my work has two themes: how do you change or transform organisations to manage sustainability issues, and how do organisations deal with the impacts of climate change?
2. What impact has your research had on sustainability in industry and the community?
It was some of the first work of its kind, particularly the research that my colleagues and I conducted on climate change and organisations. The impact of that research was that, for many years, we ran a series of executive education programs which trained up about 500 executives in total. The programs made these executives aware of climate change as an issue, as well as sustainability issues more broadly. I think this was actually the first executive education program in the area of sustainability, so it has had an enduring effect.
3. What's been one of the greatest innovations you've recently seen in sustainability?
There is some great research coming out of UQ Business School at the moment around how natural capital (for example, natural resources like air, water, and soil) impacts organisations. This stream of research is being undertaken by Cristyn Meath.
4. Is there an organisation or industry you think is leading the way in sustainability?
There are a couple of smaller organisations that have worked with us and are at the forefront of some fantastic sustainability initiatives. One of these is Rockcote, which is a small paint and coatings manufacturing company based at the Sunshine Coast. They're moving towards being a restorative company with their environmentally friendly paints and use of natural materials. Then at the other end of the spectrum, you have the Scotbar sandstone quarry, which is a quarry located near Gatton. Scotbar is doing some amazing work on rehabilitating the quarry sites they've inherited, and they're working on creating new products and reducing waste.
5. As an expert in the field of sustainability, what are you most passionate about seeing changed to create a more sustainable future?
I think the core issue that we need to tackle to create a more sustainable future is the reduction of our carbon footprint. Closely aligned with this issue is how we can reduce our material possessions, particularly our plastic-based possessions.