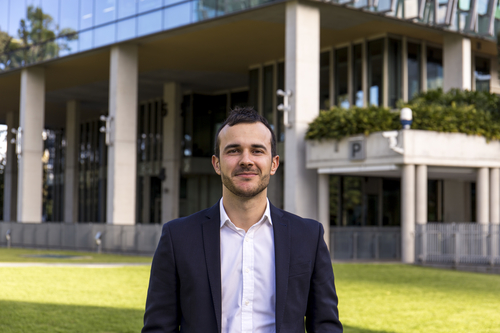 The Managing Director and cofounder of Brisbane's new health and fitness hub, Forge West End, is no stranger at turning challenge into opportunity.
Serge Radojevic, who set up the centre with his wife Dijana in the winter of 2017, has grown the business significantly with over 10 staff. The couple has a commitment to building a 'sustainable and well balanced' business, which donates 10% of its profits to charity.
Meanwhile as legal and commercial manager of Idemitsu Australia Resources, he is helping drive the mining company's merger and acquisition activity, as well as its sustainability plans by helping it to diversify into renewables.
At the same time, he is also studying for a Master of Business Administration (MBA) with UQ Business School.
It may seem overwhelming to some, but Serge is a strong believer in the need to seize opportunities as they arise. Resourcefulness is second nature to him due to his experience of navigating a war-torn former Yugoslavia as a refugee.
Born in Sarajevo, Serge fled the city with his mother and sister in 1992 after the Bosnian war broke out and spent three years moving from one refugee camp to another as the conflict escalated.
His father, having been imprisoned and put into a labour camp in Sarajevo, eventually escaped and tracked down his wife and children. Then in 1996, when Serge was almost 10, the family were granted a permit to live in Australia. However, while his parents had both been lawyers in Bosnia their qualifications were not recognised in their new homeland, so money was tight throughout his youth.
"Being a refugee taught me to value opportunity and in particular the wonderful opportunity we were presented with by living in Australia," says Serge. "I learned to be innovative – you had to be resourceful to get by."
Serge initially trained as a lawyer himself, starting his career in Brisbane with the global law firm Ashurst Australia. Then in 2013, he and Dijana packed in their jobs and moved to London. "Sometimes you have to take a calculated risk," says Serge. "Otherwise you can stay in your comfort zone without changing and miss out on life's opportunities."
The risk paid off. Initially he found a job with a with Ashurst in London in the midst of a merger between the Australian and UK law firms, before moving to his first 'in-house' role working for Shell. After almost three years, the couple packed up again after taking time out to travel Europe for almost a year, before returning to Brisbane where Serge enrolled in the UQ MBA.
"I always had a strong commercial sense and knew I would transition to a management role," says Serge. "The MBA gives me the skills and the confidence to do so. I have been able to apply the knowledge in my job and it has given me the opportunity to test my ideas with other like-minded entrepreneurs when we were considering starting our own business."
Serge is excited to be putting his new MBA knowledge and skills to the test with Forge West End. The unique studio offers a combination of Pilates, Physiotherapy and Exercise Physiology. It helps clients to improve their fitness, recover from injury and is popular with many professional athletes. Dijana, a UQ physio alumna, works day to day in the business while Serge takes a strategic role.
Giving-back and sustainability are definitely themes Serge is passionate about in business. At Idemitsu, he started a pro bono legal program to support youths transitioning from foster care into adulthood, and is now exploring new opportunities for renewables.
In one case, Serge is pursuing an innovative use of a closing mine, which he and the executive team plan to transition to a renewable energy park which is likely to utilise a combination of renewable technologies for the benefit of the community and stable electricity supply and storage. These include a pumped hydro opportunity utilising the mine's former pit as a lower water reservoir for the facility.

"It's not so much about turning away from coal – we pride ourselves on the efficiency of our coal and its integration with high-efficiency low-emission (HELE) technology. For us it's truly about diversifying and ensuring the longevity and sustainability of our Australian business – something other mining companies tend not to do," Serge explains. "We are looking across our sites to see how we could use solar and wind power, battery technology or hydroelectricity. There are some very exciting opportunities if one keeps an open mind".
"Sustainability has long been a passion of mine and these roles have allowed me to pursue that. It's not only about the technology, but also about creating a business model that can meaningfully give back to the community. My goal now is to be leading in a company that is prepared to face the complex challenges of sustainability in both communities and energy head-on".