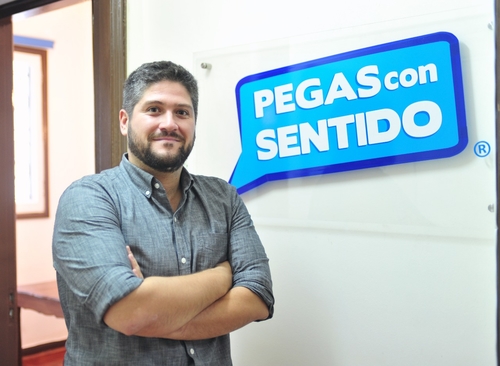 A weekend of volunteer work turned into a life-changing epiphany for Nico Morales, uprooting his engineering career and prompting him to launch a 'sustainable talent agency' for professionals seeking a more meaningful career. The UQ Business School alumnus and social entrepreneur launched his innovative approach to job-matching in home country Chile and now has his sights set on Australia.
The career-changing enterprise, Pegas con Sentido literally translates to 'meaningful jobs'. The company matches candidates who want to make a positive impact on the world with socially responsible employers. The enterprise has a network of 100 000 professionals in Chile and resonates particularly with millennials who are motivated by ethical and environmental values in the workplace.
The socially responsible job matchmaker is now looking to open an office in Peru and ultimately bring the concept to Brisbane. His achievements were recognised recently when he was named as one of the winners of the first Australian Alumni Awards, organised by the Australian Embassy in Chile.
"Some of the most important changes in the world start with people," says Nico. "Pegas con Sentido is a platform that links change makers with organisations that have the right social, environmental or cultural values and offer a good salary."
"Talented professionals don't work solely for the money, values are also important. They want to know, can I trust the company? Or, how can I change the life of stakeholders? That's why we started Pegas con Sentido and why it continues to grow."
Nico's own career path is a far cry from his original plan to become a civil engineer. His career change resulted from one weekend working as volunteer, helping to build houses for local people near his home in Valparaiso. It proved a life-altering experience.
"Normally as professionals we focus on developing our career and our earning potential but that weekend changed my thinking. Although it was only five blocks from my house, I met lots of poor families and people who didn't have the same opportunities. My family didn't have much money but we were never in need. That weekend I recognised that there were bigger challenges facing humanity than just earning a salary. I decided then and there to change the world through social entrepreneurship."
After co-founding Pegas con Sentido, Nico continued to work full time in commercial and logistics roles before enrolling in the Master of Business program at UQ Business School in 2014.
"I chose UQ because it's one of the most important universities focusing on social enterprise. I also wanted to experience living in Australia and travel around Asia. By the time I returned to Chile, I knew for sure that my previous life as a commercial manager was not for me. I wanted to focus on Pegas con Sentido, however the business was almost bankrupt. I took on the role of CEO in 2015 and it has been growing by 100% per year ever since. I think the next step will be Peru but I am sure that we will end up in Australia – I think there is huge potential for it here."
As a father, social responsibility has become more important than ever to Nico.  As an international speaker, he encourages people of all ages to use business as a force for good.
He adds: "It's beautiful to see how social enterprise is coming of age and how the movement is growing worldwide. I think big corporations have an important role to play in society - that's why I founded an enterprise and not an NGO. As a business you have more power, more space and more opportunities to create change. I am sure that if all of us who think the same way can work together, we can create a global movement and use business to change the world."