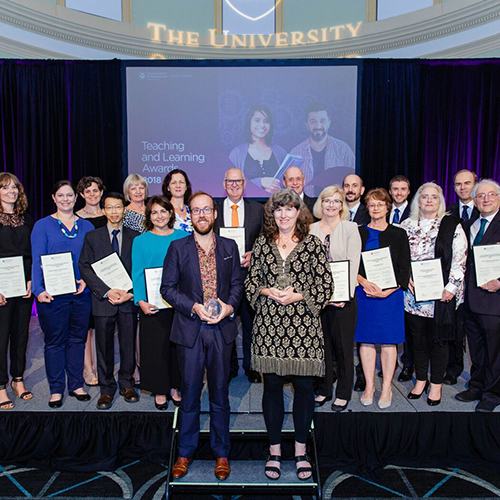 The University of Queensland celebrated excellence in teaching and learning at Brisbane's Customs House last night.
Deputy Vice-Chancellor (Academic) Professor Joanne Wright said the annual Teaching and Learning Awards honoured teachers from across the University for their innovation, commitment and drive.
"The personal and professional commitment of our academics ensures the University continues to create globally relevant job-ready future leaders," she said.
"UQ's vision of knowledge leadership for a better world demands we provide our students with the knowledge and skills to be enterprising graduates capable of building meaningful, agile careers.
"We set aside this night each year to recognise and thank those teachers who extend themselves and go the extra mile to create stimulating and inspirational environments for their students.
"It's always an honour to be able to thank our teachers for their invaluable work."
Business, Economics and Law (BEL) Faculty Associate Dean (Academic) Professor Polly Parker congratulated all members of the BEL learning and teaching community.
"Across the BEL Faculty, we are fortunate to have teachers and tutors who provide a transformative and partnered learning experience for our students," she said.
"As the world of work changes, so too must our research and teaching, and it is great to see these awards recognise some of the many valuable contributions to improving student engagement and employability made by our business, economics and law teachers."
Teaching and Learning Week runs from Monday 29 October to Friday 2 November, with a focus on innovative teaching practices including blended learning, enterprise and innovation, and students as partners.
BEL Faculty winners include:
UQ Awards for Excellence 2018
UQ Teaching Fellows
Dr Alastair Tombs, Business School
Citations for Contributions to Student Learning
The Everest Team – UQ Business School
Dr Geoffrey Greenfield (lead)
Dr Elizabeth Nichols
Dr Gemma Irving
Associate Professor April Wright
Mr Ross Strong
Dr Cle-Anne Gabriel
Read more: Mt Everest summit simulation climbs to 10,000 students
Commendation for Citations for Contributions to Student Learning
Tutor Trainers in Economics – School of Economics
Dr Bruce Littleboy
Mr Carl Sherwood
Associate Professor KK Tang
Dr Frederique Bracoud
Dr Bryan Morgan
UQ Higher Education Academy Fellowship 2018
Principal Fellows
Senior Fellows
Fellows
Hasibul Chowdhury, PhD student, tutor and casual research assistant, Business School
Evan Matthews, Business School
Dr David Mills, Business School
Associate Fellows
Dr Marisol Alonso Vazquez, Business School
2017 Australian Awards for University Teaching (AAUT)
Awards for Teaching Excellence
Media: BEL Communications, media@bel.uq.edu.au, +61 7 3346 0700.