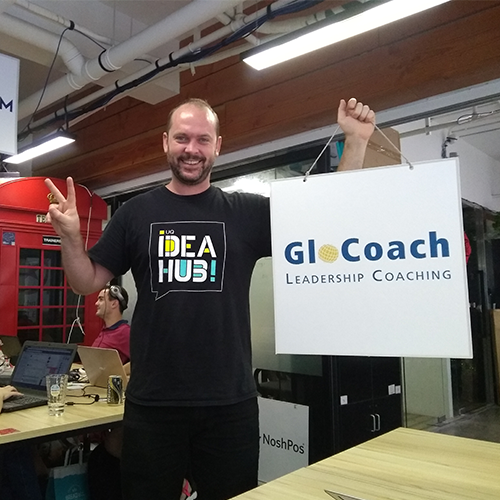 Entrepreneurship, creativity and innovation are areas which have always fascinated me. Doing things better, faster, or cheaper.
Whilst embarking on my first venture I was faced with a classical dilemma for new entrepreneurs; how can I establish and grow my business network? This is where the interaction and involvement with UQ Idea Hub has been priceless.
Having completed the UQ Idea Hub six-week program and being a current University of Queensland (UQ) student meant that I was eligible for the UQ Startup Adventure, and was accepted for the Shanghai intake over the 2018 mid-semester break. This was exactly the jump start I needed to develop an effective process for professional networking!
During my four-week internship placement for GloCoach, based out of Chinaccelerator I used LinkedIn to connect with executive level leadership throughout China, establishing sales leads and marketing channels.
After just two weeks of the UQ Startup Adventure you could already see the effect that China was having on my business contacts from my LinkedIn network visualization and analysis map. You can see from the analytics, depicted below, that my network is sub divided into about 7 macro groups of people, spanning three main geographical areas; Australia, Europe and now China.
The network sparsity from the Chinese connections [Group 1] shows how the connections are in completely new areas where I have not been exploring before. That means that if they are frequent LinkedIn users, then they have an entire network that is completely separated from mine. If I were to strengthen the relationships I have with those individuals, I'd potentially have access to their network as well!
[Group 2] and [Group 3] are my European university connections from the Technical University of Denmark (DTU) and the Norwegian University of Science and Technology (NTNU) respectively. [Group 4] represents the professional contacts I accumulated throughout my prior engineering career. [Group 5] encompasses people that are currently studying the same Master of Business Administration (MBA) degree as me at UQ Business School. [Group 6] are my university connections from my undergraduate UQ degrees.
[Group 7] contains all the mentors, entrepreneurs, and investors I've met in Australia through UQ Idea Hub. These newly established business networks will have lifelong benefits throughout my entire entrepreneurial career. A study by Honig & Karlsson 2004, found that being in a business network was the second strongest factor for success behind knowing the customer before starting the business.
"Being in a business network increased the probability of becoming a profitable startup by a factor of 3.1"
During my MBA they continuously reiterate the importance of networking for business people, and it is also extremely relevant for entrepreneurs. Communicating amongst a wide range of startups within the Chinaccelerator entrepreneurial ecosystem helped build strong relationships with other entrepreneurs from different age groups, nationality and fields of interest.
New research by the Economist Intelligence Unit has confirmed that informal entrepreneur communities are instrumental to startup success in several world cities that are known for their nurturing of innovation.
"If you don't have an ecosystem of people you can tap into for support, to help out with, say, finding talent or just making contacts, it's 20-30 times harder to get your business off the ground." – Bryce Keane, co-founder, 3beards (London)
I have found networking powerful in many different ways. Not only do I feel inspired and motivated after attending specific events or meet ups such as the machine learning hackathon at Coder Bunker in Shanghai, but also many exceptional opportunities can occur if you impress potential investors or business partners like the numerous high-profile company Vice Presidents I connected with via LinkedIn throughout China.
Data from a survey of more than 1,000 entrepreneurs in the UK found that they are aware that they need to improve their 'business networks' but do not know how to go about it. UQ Idea Hub solves this problem, by providing an ecosystem with experienced mentors and a network of local and global innovators to help develop ideas into solutions that could change the world. As a graduate from UQ Idea Hub I am now able to access further advice from UQ Idea Hub mentors and partners whilst embarking on my first venture.
---
This article was originally published by UQ Idea Hub, by Nathaniel Simpson, Master of Business Administration student.
From the LinkedIn network analytics, you can see and quantify the lifelong impact UQ Idea Hub has had for me in establishing and growing my business networks. I encourage all students to sign up to their events so they too can benefit from what the programs have to offer. A simple hello could lead to a million things…