Four Business School postgraduate students from The University of Queensland (UQ) have placed second in this year's Global Business Challenge (GBC) – the world's largest business case competition.
Hosted in Brisbane at the UQ St Lucia campus, the competition attracted submissions from 620 teams around the world, with over 62 countries represented and seven finalists. The brief challenged postgraduate students to develop solutions to improve trust and customer value in the delivery of financial sector services.
UQ Business School's team, Earth Inc. was given RACQ Bank as their client and faced with the challenge of overcoming hostility to the bank after the details of the Royal Commission in 2018 were released.
EARTH Inc. developed an IT solution that provides climate-safe information to the bank, allowing the bank to choose relevant partnerships and portfolios based on how they aligned with the Paris Agreement target (carbon emissions), and how their impact on the climate will affect the bank and their customers.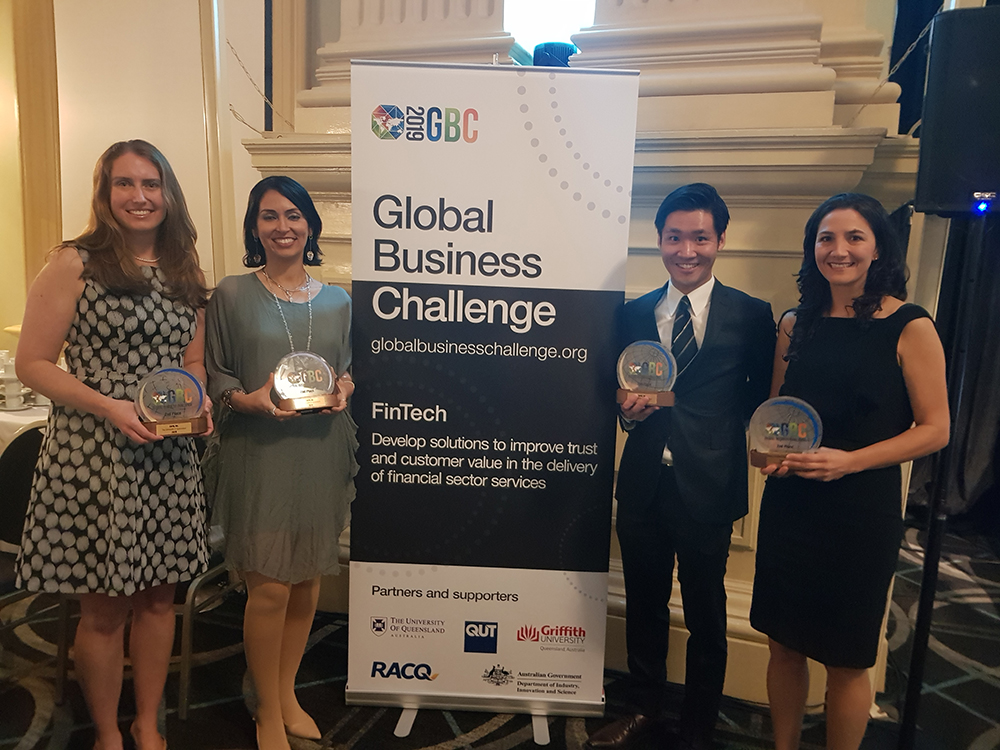 Earth Inc. included a diverse team of students studying either a Master of Entrepreneurship and Innovation, or Master of Business Administration (MBA) at UQ Business School. Members of the team included Natalie Haanwinckel Hurtado, Juliana Meneses, Silvie Ketelaars, Takefumi Yashida and their coach, Dr Saphira Rekker, a Lecturer in Finance.
Dr Rekker said the competition leveraged intellectual talent from the world's top business schools to provide real industry challenges.
"The challenge pushed everyone's limits and created a wealth of knowledge and skills in just a few months," said Dr Rekker.
Team members agreed that the competition and lead up preparation provided a great opportunity to leapfrog their knowledge and experience.
"It was a great experience that does take a lot of work and preparation, but it's a great learning opportunity and an opportunity you'll never forget," said team member Ms Ketelaars.
"I have more confidence in my ability for quick decision making after the challenge."
The finals included a 48-hour lock-in, where teams worked round the clock to create a business case for their client. UQ's team faced off against teams from Germany, India, Ecuador, Canada, China, and the United States.
"The most challenging part to me was the lock-in phase because of the overwhelming number of tasks to prepare in such a constrained period of time, but the experience was invaluable," said Ms Hurtado.
Media: Emma Pryor, (07) 3346 4506, media@business.uq.edu.au