From Far North Queensland to the UQ MBA
Suzanne's scholarship story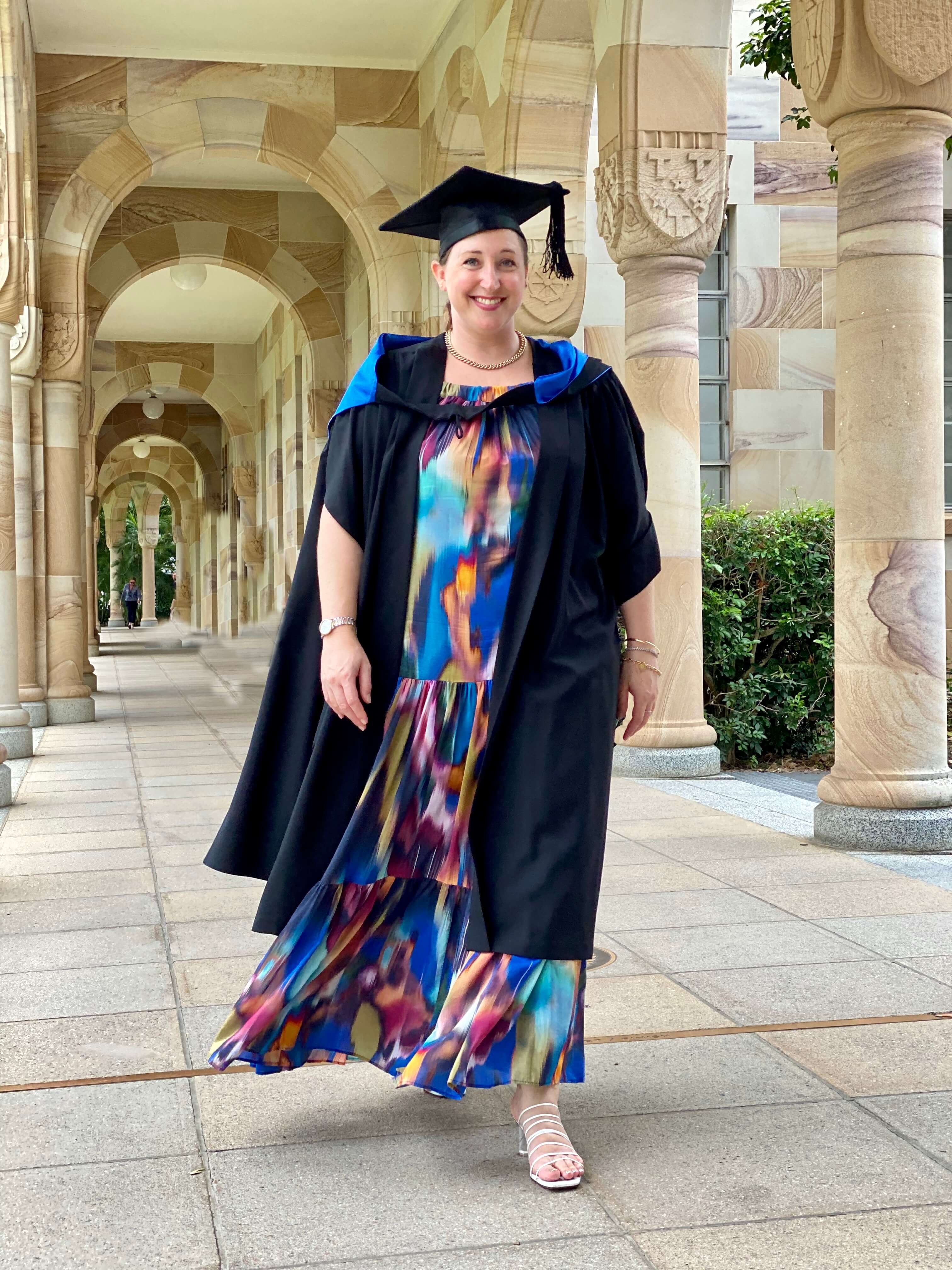 A UQ scholarship can give you the time and space to focus on your studies so you can enhance your knowledge and gain new expertise without the financial pressure.
By crafting how you communicate your previous experience, achievements and challenges, the scholarship application process can also help you understand your career aspirations and unlock new opportunities.
The University of Queensland's Master of Business Administration (MBA) offers up to 13 scholarships for eligible students starting their first semester in the program. Valued at 25% of tuition fees, the MBA Scholarship for Women is awarded to 4 MBA candidates in consideration of their academic merit, managerial experience, community involvement and personal statement responses.
A recipient of the MBA Scholarship for Women in 2019, Suzanne Wood came into the program with a professional background in health and aged care. The MBA was an opportunity for Suzanne to expand her skillset and progress past middle management to become an influential decision-maker in a new professional arena.
Connecting work experience and career aspirations 
When applying for the scholarship, Suzanne discussed her career history as a registered nurse. From rural and remote hospitals in Far North Queensland to metropolitan acute specialist private hospitals, she had gained diverse work experience across both private and public sectors.
"In my video submission I spoke about my passion for helping others, as it had influenced many of my career choices, and I explained why I thought the MBA was the next natural step in my life," she says. 
"I believed I could combine my insider frontline work experience with MBA business acumen and contribute to pragmatic design-making in the health sector, ultimately achieving better outcomes for our community."
Overcoming professional obstacles to create meaningful change
A naturally open person, Suzanne spoke about personal challenges she'd faced in her work, detailing how she overcame cultural and educational barriers in an initiative she led to achieve significant and quantifiable results for her community.
"My personal work initiative had involved introducing an infection transmission minimisation program into an aged care facility," she says. 
"The collective staffing group of roughly 160 people all needed to be upskilled. This meant I needed to train, educate, monitor and evaluate the performance of a highly diverse group of staff."
Part of Suzanne's role required her to navigate a vast spectrum of age groups, cultural backgrounds, education levels and professional motivations in the workplace. A key benchmark of success was creating cultural change through leadership, rather than management. Suzanne achieved this by designing highly engaging training materials and incorporating them into the everyday work culture.
"In retrospect, this was an incredibly timely and critical piece of work. The pandemic hit less than a year later, and as a result of the program, these facilities were better informed and able to provide safe care to the residents," Suzanne says. 
"A previous manager reached out to let me know that it had significantly contributed to their statistically low COVID-19 infection rates for staff and residents."
Building confidence to conquer self-doubt
Having come into the program from a health background, Suzanne initially doubted if her work experience and skillset were suitable for the MBA. These feelings of uncertainty about her place in the program echoed into the scholarship application process. 
"After speaking with other recipients of the MBA Scholarship for Women, I discovered we all shared similar trepidation when applying for both the program and scholarship," she explains.
With the support of her family behind her, Suzanne felt confident to take a chance and encourages other potential applicants to follow suit.
"I'm a strong believer in nothing ventured, nothing gained. Especially when you don't feel like you deserve something, there is really nothing to lose in reaching for it," she says. 
"You usually come out the other side either having learned something new about yourself or having attained something you didn't think was possible."
Achieving lasting academic and professional recognition
As a single mother of one, receiving the MBA Scholarship for Women gave Suzanne the opportunity to keep working while studying full time and complete the program in a year.
"The MBA Student Scholarship alleviated the burden of resigning from a job I loved to enrol in the full-time intensive program for a year," she says. 
"UQ is globally recognised and a highly competitive MBA program, so getting this scholarship also provided reputational benefits and career advantages in addition to the MBA letters after my name!"
Within the year, Suzanne had strengthened her business acumen and leadership skills to embark on a new career path as a consultant. In part, she points to her scholarship as an external recognition of her accomplishments in her career and studies.
"Being awarded an MBA scholarship was an honour that signalled my personal work ethic and determination to succeed to employers," she says.
"My dad, my mentor, always said a qualification is something that no one can take away from you. I feel the same way about the MBA Scholarship – this achievement is with me for life."
Finding the right scholarship for you
UQ offers a variety of scholarships that can support you on your MBA journey. For eligible students, the application process considers your professional background, achievements, personal circumstances and passion for the subject matter.