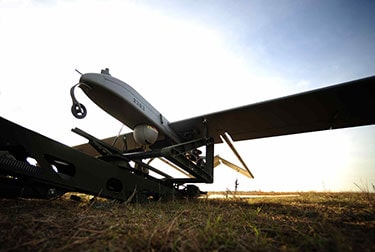 After seeing how expensive and time-consuming it was for the military to fly helicopters, not to mention the risk to human life, army engineer Rob Sutton was determined to make a difference through drones.
Coming from a defence background, he understood what the technology could mean to the soldiers, sailors and airmen who put their lives on the line every day in defence of the country.
"What motivates me is that drones take people away from unnecessary risk," says Sutton, founder of Brisbane-based Mirragin Unmanned Systems.
"If they crash - assuming they don't crash on a person - there's nobody inside, so they're not putting anybody at risk and they can generate the same if not better output," he says.
But professional expertise and experience don't necessarily translate to business acumen, and good ideas can go nowhere without the right impetus and leadership skillset. 
With a desire to change the course of his career Sutton took the plunge to study a Master of Business Administration (MBA) at The University of Queensland (UQ) Business School - a launchpad that ultimately gave him the confidence to pursue his entrepreneurial ambitions.
"When I was at UQ, just starting the MBA program, we launched an MBA entrepreneurs club to meet up once a month with the express purpose of supporting everybody else to start a business," says Sutton.
"Being a part of a diverse group in my MBA has been an amazing opportunity, because my peers have pushed me to the places I was finding hard to go on my own."
It was that support network and the critical learnings gained through the program that led Sutton to found Mirragin in 2017 while still studying. 
The business has since grown to have eight staff on its books, while also aiming to service customers outside of the military space such as cattle farmers and the Queensland Fire and Emergency Services (QFES).
"One of the most dangerous professions in Australia is cattle mustering, because people get in a helicopter and they fly after the cows, whereas now you can do the same job with drones," he says.
"The kind of companies that we help are organisations for whom the problems require large drones or large drone fleets or complex organisations.
"We're not catering to the real estate agent who wants to use drones to take photos, but we might be helping organisations like the QFES that want to roll drones out for their entire fleet to support all the activities they do."
With this offering, which is about the expertise but not the equipment itself, Mirragin continues to field requests from new industries that are cottoning on to the wide application of drones.
"Another example is a zoo recently contacted us and said that they're interested in exploring the idea of using drones to feed their animals," he says.
Sutton explains there was heavy focus on leadership when he went through the Australian Defence Force Academy, and in his career as an army officer he filled several leadership positions. However, it was in the UQ MBA program that he learned about the importance of personalities and how people's worldviews could shape the effectiveness of different leadership styles. "The thing that the UQ MBA gave me was a recognition that there are many different ways to think," he says. "I know that sounds strange, but as an engineer and as a project manager, you're used to thinking in a structured, linear way. Before I started the MBA I thought that if I could present to somebody a well-reasoned, structured argument, then I would be able to sway them as to this particular course of action."
In the first course Sutton undertook as an MBA student he learned about the importance of relationships, politics and symbolism in decision-making.
"If I want to make change in the world, I need to understand the way change happens. It's not always about the logical path," he says.
"As an engineer I've always had a tendency to want all of the information before I start, before I make a decision, but through the MBA process you realise that you can't ever have all the information - it's actually not possible.
"But the MBA gave me enough information and knowledge about how decisions are made, how innovation happens and marketing is done. It also gave me the confidence to launch my business."
Discover why the UQ MBA is #1 in QLD