It was while working as an Army Officer in the Australian Army and taking a career break that Grant Joy decided to start a Master of Business Administration (MBA). Having joined the Army when he was 17, Grant's next career frontier was to experience consulting, project management and commercial management in a different industry.
For Grant, studying an MBA was originally the step that would enable him to make a permanent leap outside of Defence. But completing his UQ MBA program ended up being the catalyst to so much more.
Grant chose to study his MBA at The University of Queensland Business School based on a recommendation from a former Defence colleague who completed a UQ MBA in 2014. He also valued the quality and reputation of the program, access to career support, and the unique networking opportunities available like the Social Economic Engagement Program (SEEP).
The convenience of a flexible MBA program
It was important to Grant that his studies wouldn't take over his life, so he chose to study his program via UQ's flexible mode. This allowed him to complete his program over 4.5 years at the same time as working his day job. During this time, Grant got married, had his first child and was deployed to Afghanistan.
While maintaining a balance between competing priorities wasn't always easy, it was important for Grant to prioritise his personal well-being, family and relationships while he studied. The various delivery modes and flexibility of UQ's MBA program allowed Grant to juggle and balance life, study and work demands depending on the time of year. For example, he found the opportunity to study during summer semesters, while the Army had reduced operational periods, was valuable. He also finished an assignment while on a C130 flight into Afghanistan in 2015.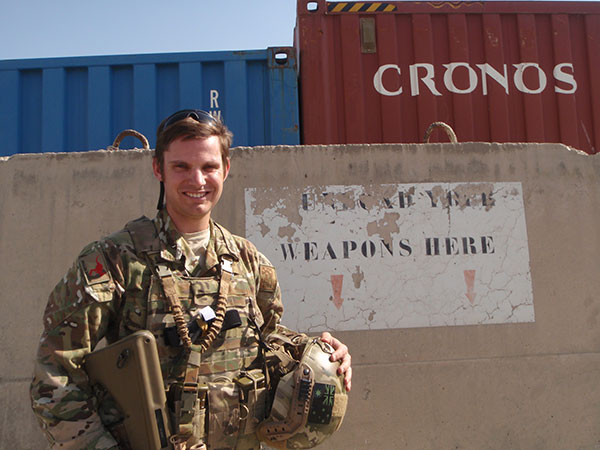 It's the people you learn from and with that make your MBA experience
UQ's MBA teaching staff further fostered a sense of flexibility by offering after-hours consultations, an opportunity Grant gratefully took advantage of.
"I enjoyed how the academic staff shared the learning experience with you. It was less about 'instructing', and more about 'sharing'.
However, he also discovered that the insight provided by his peers was invaluable, complimenting the content delivered by the academic staff.
"This was a major source of my personal and professional learning. It allowed me to understand the broader commercial sector, and the interesting roles and organisations where my peers worked."
In 2016, Grant and a team of other UQ MBA students worked to develop a business plan for Team Rubicon Australia as part of the UQ Social Economic Engagement Program (SEEP). As a not for profit organisation that utilises volunteers, the majority of which are military veterans, to lead and conduct disaster recovery activities, Team Rubicon Australia's mission aligned with Grant's own experience and interests.
The project gave Grant and his team the opportunity to put the knowledge and capabilities they'd gained throughout their studies to work, as they were responsible for analysing and preparing the organisation's Volunteer Growth Strategy. A few years later, Grant accepted a voluntary role with Team Rubicon Australia as their National Engagement Manager. He continued in this role until 2020.
How a UQ MBA can transform your career
Grant's graduation coincided with commencing as a Consultant with BCT Solutions. Grant was then appointed as BCT's Operations Manager following the company's acquisition by Accenture. During this time, Grant provided commercial support for the Post Acquisition Implementation, while maintaining BCT's commercial management.
Grant felt confident his UQ MBA would prepare him to move into management consulting, but what he wasn't expecting was for the MBA to light his entrepreneurial spark.
Grant has since co-launched two start-ups with other UQ MBA alumni: Airus (machine learning and artificial intelligence), and Protegas Australia (specialist intelligence and security services).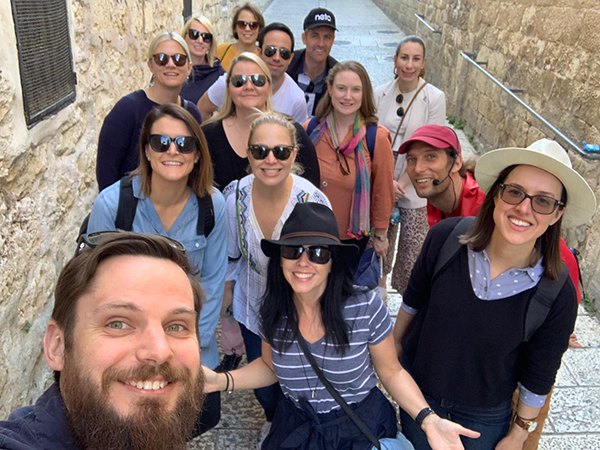 Grant has a long, successful career ahead of him. The UQ MBA provided him with the platform, knowledge, capabilities and connections to achieve his goal of transitioning from Defence to experiencing consulting, project management and commercial management in a different industry.
Grant's advice for those considering starting an MBA as well as for those already studying is to "focus on the learning opportunity, including the extra-curricular opportunities available to UQ MBA students, and consider the marks and grades as a by-product of the experience".
Learn how a UQ MBA could transform your career.