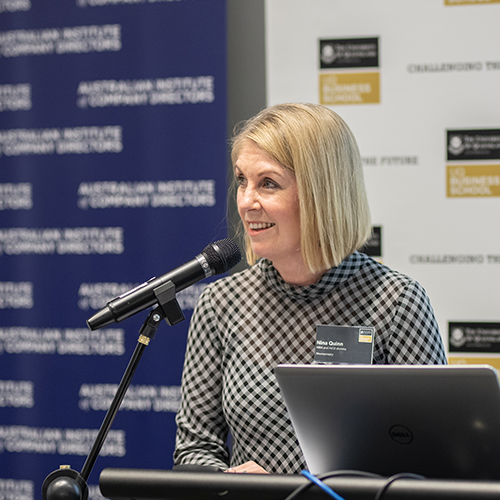 This article was originally published in Business News Australia by Paris Faint. 
---
It took three years of building a successful medical device startup company before Nina Quinn was headhunted to become the CEO of Neurosensory.
Quinn's transition in taking Neurosensory from a South East Queensland business turning over $5 million, to a multi-clinic enterprise now spanning three states wasn't an easy one.
Had she not embraced her 'discomfort zone' and taken a step back to evaluate her own career, Quinn's success may not have transitioned to the next level of significance.
Quinn's track record of commercialising the initial startup and taking its operations to America commanded the attention of Neurosensory, a hearing healthcare company with clinics now spanning the east coast of Australia.
After initially accepting the role, Quinn applied her years of audiology and business experience to grow the company.
For a few years the transition was smooth, but as with all significant journeys, Quinn eventually came to a crossroads.
Neurosensory had grown to a point where complexity and stress became a part of the daily grind for Quinn. However, instead of moving on from the company, she decided to equip herself with a new set of skills to stay on track.
"When I came to Neurosensory I had a plan. When we achieved that plan, and I was at the point where I wanted the company to be, I was then challenged," explains Quinn.
"I no longer had the clarity of where we were going as a business. I started to lose some confidence I started to think 'what am I going to do about this? I either have to step down and let someone more qualified take over or I need to upskill'."
That's when Quinn enrolled in a Master of Business Administration (MBA) at The University of Queensland (UQ) Business School.
Her goal was to learn how to make better decisions in a complex world, and generate the clarity needed to lead a team and execute Neurosensory's future strategy with confidence.
Quinn found herself in an empowering situation, where she could apply the learnings from her MBA while she was still working full time in the CEO role.
"I was in a unique position, where I could make decisions straight away based on what I was learning," says Quinn.
"Obviously, I had to bring my team and board of directors on my journey, but they were so supportive. The managers were just as excited as I was to apply what I was learning and see those direct results," says Quinn.
"The UQ MBA program really helped to expand my knowledge of how to run a business and what we should be looking at."
It didn't take long before Neurosensory started to evolve under Quinn's boosted managerial confidence.
After each subject, Quinn was able to affect change in that area. For example, within three months of completing her Strategic Human Resources Management course as part of the MBA, Quinn had completed a strategic HR audit.
The audit recommendations overhauled the company's HR management.  Neurosensory now has 66 surgeons and over 110 staff across 23 clinics.
Quinn says she has become more dynamic as a leader and finds it easier to tackle complex problems as they arise.
"I enjoy being able to take a whole heap of information documents, listening to people in a meeting and crystallising it into what problem we are trying to solve?" says Quinn.
"After I determine 'what is the problem?' and 'what is the deliverable?', I'm far more effective at getting to the decision point with confidence."
While she didn't expect the MBA to change her thought processes altogether, Quinn was pleasantly surprised that it did.
"The UQ MBA changed the way I think, which I didn't actually anticipate. I thought I'd learn some more skills and knowledge, but I didn't think I would change so much."
Read the full article on Business News Australia.