Sitting in her apartment in Frankfurt, Germany, waiting to start a new day of work with sustainable fashion start-up tech company, SupplyCompass, Margo Camus is very thankful for the opportunities her MBA has provided.
It could have been very different.
"I never really thought about doing an MBA. But I don't think I would be here, living my dream of working in Europe and pursuing my passion for the fashion industry without it," she told MBA News.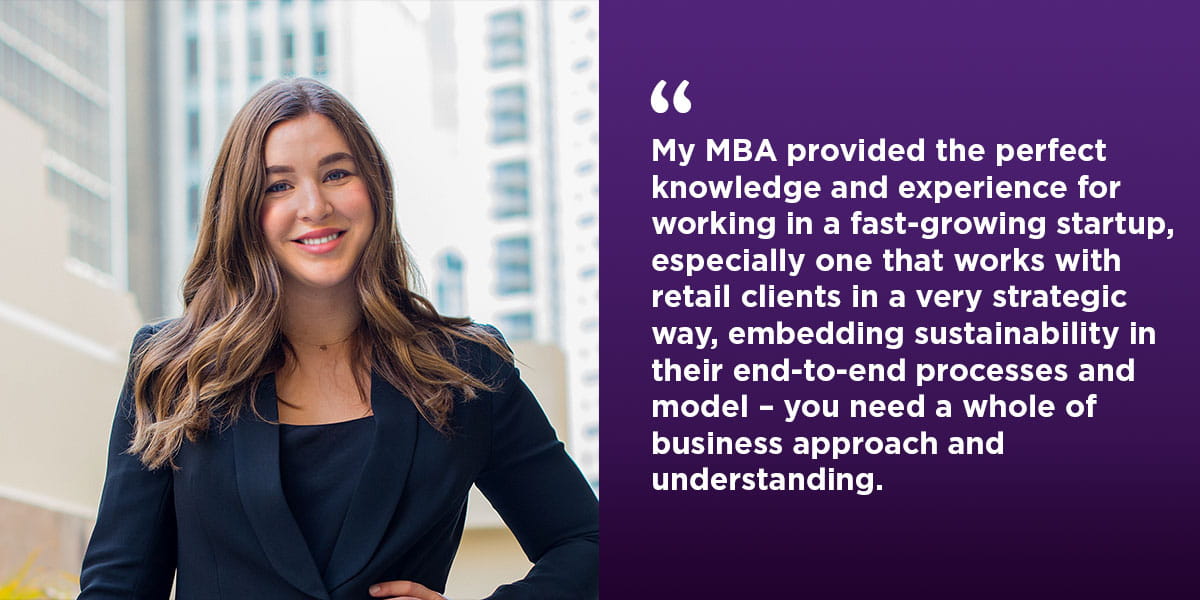 A degree that aligns with your career goals
Margo comes from a family of academics with a strong commitment to education. It was a commitment that saw the family move from Margo's birthplace in Chile to Canada before eventually settling in Australia, where she completed an undergraduate degree in business management.
After 5 years in the workforce, working in a variety of digital marketing roles, she knew her academic journey was far from over.
"Education was really important in our family. Even when I was doing my undergraduate degree, I always had the goal of pursuing a master's."
But when it came time to decide on which master's, the thought of another specialist qualification seemed a bit redundant. That's when someone suggested she think about an early-career MBA instead.
However, like many prospective students, Margo's impression of the MBA degree was tainted by a stigma centred around C-suite progression. But, with some research, she learned the UQ MBA is designed to offer a lot more.
"My perception was that an MBA was for corporate types, working in big companies," she said. "My passion is for innovation, creativity and sustainability. I didn't see myself as a very serious, corporate person."
Choosing a highly ranked MBA and Business School
However, after researching several universities and different degrees, she settled on The University of Queensland (UQ) MBA because of its transformational approach to broader career outcomes and her desire to work internationally. Margo also discovered UQ Business School performs strongly in international rankings and provides global networks, which would help support her dream of working overseas.
The UQ Business School was the first school in Australia to earn accreditation from both the European Quality Improvement System (EQUIS) and the Association to Advance Collegiate Schools of Business (AACSB). In 2021, the UQ MBA was ranked number 1 internationally for its quality of students, according to The Economist, as well as 1 of the top overall MBA programs in the Asia Pacific region,  and number 1 in Queensland.
The start of a global, fashion-forward career
"I wanted to work in Europe in a more senior and global position and knew I would need a degree that was recognised around the world," she said.
"I still wasn't entirely convinced until I attended one of the information events and saw the incredible diversity of alumni. They were working across the entire spectrum of the economy, using the knowledge gained through their MBA to solve important challenges. I was hugely inspired by that."
Margo decided to enrol in the 1-year, full time UQ MBA program – based in the heart of the Brisbane CBD and specifically designed to deliver excellent graduate outcomes. The program also provides flexible learning options for students who want to study at their own pace around work and lifestyle commitments.
Margo started her MBA in 2018 and ended up completing subjects at 3 different international universities as part of UQ's MBA exchange partnerships, including modules in Copenhagen and Finland. She also received credit for participating in the MIT Bootcamp held in Brisbane, where her team was selected as having the winning venture idea.
After finishing her last subject at the University of Copenhagen, Margo tidied up her resume and headed to London to see how far her qualification would take her.
Within weeks she was recruited as the Head of Marketing at SupplyCompass, an end-to-end software platform reimagining and redesigning the fashion supply chain to be more sustainable and collaborative.
Since joining SupplyCompass, Margo has had countless opportunities. She took part in the Farfetch Dream Assembly accelerator programme in partnership with Burberry, alongside a cohort of leading startups making meaningful and impactful changes in the fashion tech industry, has worked with some of the world's leading fashion brands and managed a global team.
"I have always been passionate about fashion and sustainability and these are core to our mission at SupplyCompass. Every day we are effecting real change in the world and that is incredibly rewarding," Margo said.
"The ability to pursue my passion in an international environment is a great opportunity at this stage of my career and is something I will be able to leverage when I return to Australia in future."
These days Margo lives in Frankfurt, Germany. While she hopes to 1 day bring her international experience home to Queensland, Europe is exactly where she wanted her MBA to take her.
Discover why the UQ MBA is #1 in QLD